At Bartell's, our 130 year-long history in the Puget Sound means we feel a duty and kinship towards the place we call home and the people who define it. That means we're committed to promoting locally-minded companies that make the Pacific Northwest home. When it comes to ensuring a healthy community, local economy, and sense of place, we believe we're all in it together. With that in mind, we want to introduce you to the best PNW brands that share our enthusiasm for our community.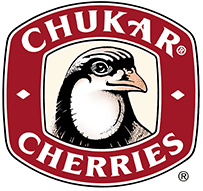 Whether you're a native Washingtonian or a long-term transplant, you've likely heard of Chukar Cherries. Chukar Cherries has been supplying the Pacific Northwest with delicious cherries from their hometown of Prosser for over 30 years. Founded in 1988, they're a family company that grows their cherries in Washington and turns them into tasty snacks and desserts in their Prosser-based factory. None of their treats use preservatives or artificial ingredients and are fresh — a Chukar Cherries product will spend less than two weeks on the shelf.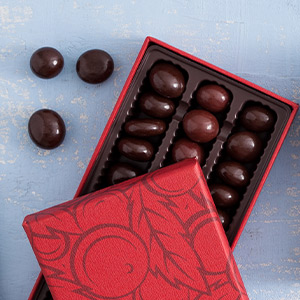 Along with their immersion with the local community, Chukar Cherries is especially committed to sustainability and environmental responsibility. They know that the foundation of caring for the community is caring for the space which the community inhabits. Chukar Cherries' packaging is fully biodegradable (even their tins, boxes, and chocolate trays) and their catalogs are printed on FSC-certified paper, meaning all their paper products are from responsibly managed forests. Furthermore, they're in the process of eliminating plastic wrap in gift products and working with environmental leaders and scientists to develop fully biodegradable food-grade film. Chukar Cherries composts their cherry pits for use as stove pellet fuel and as dust abatement for their neighboring vineyards in the Columbia Valley. Additionally, they calculate the carbon footprint of each product sold and donate a corresponding amount to fund renewable energy projects.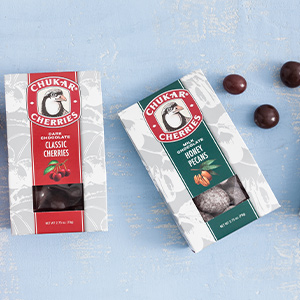 Loving our friends at Chukar Cherries for their commitment to sustainability is only half the reason – the other reason, of course, are their delicious treats! Besides their many cherry products including cherry pie filling and chocolate-covered cherries & nuts, they also sell an array of chocolates (check those out here) and other nut-based jumbles like nut and caramel corn mixes. Lucky for all of us, you can find a wide variety of Chukar's range at your local Bartell's. The majority of Bartell's Chukar products are under $20, and they range from milk chocolate honey pecans to Bing cherries to a basket of assorted chocolate-covered cherries. You can also order online from Bartell's via Amazon Prime Now or Instacart.
If you ever find yourself in the mood for some of Chukar's sweets, any of Bartell's 67 Puget Sound stores can help satisfy that craving. (If you don't know where your closest Bartell's is, you can find that out here.) Now, if you'll excuse us, we're going to go snack on some chocolate Rainiers.