Love is in the air! Or at least in the oven. Time to make some gorgeous and delicious treats to share with friends and family. (Or keep them all to yourself, we won't tell!) So whether you're into cheesecake, brownies, cookies, or cupcakes, we've got a little Valentine-themed treat for everyone. Scroll to the bottom for a bonus cocktail to serve with all your freshly baked goodies!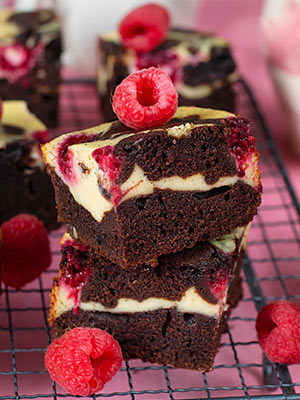 Raspberry Cheesecake Brownies
Ingredients:
Ghirardelli Brownie mix
¼ cup water
1/3 cup vegetable oil
1 egg
8 ounces cream cheese, softened
1/4 cup granulated sugar
1 egg yolk
1/4 cup Maury Island raspberry jam
optional: fresh raspberries, for topping
Preheat the oven to 350°F. Line the bottom and sides of an 11 x 7 inch baking pan with aluminum foil, leaving an overhang on all sides. Set aside. Set out 8 ounces of cream cheese for the cheesecake layer and allow to soften as you prepare the brownies. Make the brownie batter first, according to package. Pour batter into prepared pan, reserving 1/4 cup of batter. Make the cheesecake swirl: With a hand-held mixer on medium speed, beat the softened cream cheese, 1/4 cup sugar, egg yolk, and raspberry preserves in a medium bowl until completely smooth – about 1 minute. If you'd like a pinker cheesecake layer, add 2-3 drops of red food coloring. Dollop spoonfuls of the cream cheese mixture on top of the prepared brownie batter. Drizzle with the last 1/4 cup of brownie batter. Glide a knife through the layers, creating a swirl pattern. Press a few raspberries into the top. Bake brownies for 35-45 minutes, or until a toothpick comes out clean – which may be shorter or longer. Cover the brownies after 20 minutes to avoid the top from browning too much and too quickly. Allow brownies to cool completely before cutting into squares. Store in an airtight container in the fridge.
Modified from: https://sallysbakingaddiction.com/raspberry-cheesecake-brownies/
Sparkle Sweetheart Cookies
Ingredients:
3 cups all-purpose flour
1 1/2 teaspoons baking powder
1/2 teaspoon salt
1 cup (2 sticks) unsalted butter, softened to room temperature
2 ounces block cream cheese, softened to room temperature
1 cup granulated sugar
1 large egg, at room temperature
2 teaspoons pure vanilla extract
1/2 teaspoon almond extract
3/4 cup sanding sugar or sprinkles, pink and red
32 Dove chocolate hearts, unwrapped
Whisk the flour, baking powder, and salt together until combined. Set aside. In a large bowl using a hand-held or stand mixer fitted with a paddle attachment, beat the butter and cream cheese together on high speed until relatively smooth, about 2 minutes. Add the granulated sugar and beat until combined and creamy. Add the egg, vanilla extract, and almond extract and beat on high speed until combined, about 1 minute. Scrape down the sides and bottom of the bowl as needed to combine. Add the dry ingredients to the wet ingredients and mix on low speed until combined. The dough will be thick. Cover dough tightly with aluminum foil or plastic wrap and chill for 30-60 minutes. Preheat oven to 350°F. Line two large baking sheets with parchment paper or silicone baking mats. Pour sanding sugar in a bowl or, if using multiple colors, a few separate bowls. Roll balls of cookie dough, about 1 Tablespoon of dough per cookie, then roll each ball in the sanding sugar to coat. Place each dough ball 2 inches apart on the baking sheets. Using the back of a measuring cup or drinking glass, gently press down on each dough ball to slightly flatten. Bake the cookies for 12-13 minutes or until very lightly browned on the edges. Remove from the oven and allow to cool on the baking sheets for 5 minutes. Press a chocolate heart into each cookie and quickly stick the baking sheet in the freezer or fridge so the warm cookie does not completely melt the chocolate heart. Let the chocolate set (about 15 minutes) on the cookies in the freezer/refrigerator.
Modified from: https://sallysbakingaddiction.com/sparkle-sweetheart-cookies/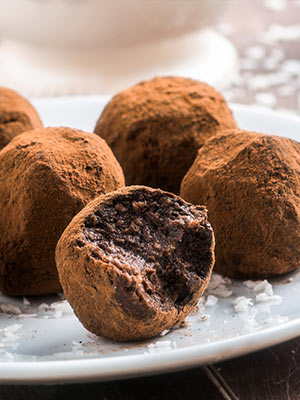 Dark Chocolate Raspberry Truffles
Ingredients:
8 ounces Guittard dark chocolate chips
4 ounces heavy cream
2 tablespoons Maury Island raspberry jam
½ cup dark chocolate cocoa powder
Place chocolate in a medium mixing bowl and set aside. Pour heavy cream into a shallow saucepan or cooking pot and heat over medium-high heat until almost boiling. Once you see it begin to steam and form small bubbles on the side, pull it off and immediately pour it over the chocolate. Let the mixture sit for 5 minutes, then stir together. The mixture should be extremely smooth, with all the chocolate melted. If needed, microwave the cream and chocolate together in 15 second increments, stirring when finished, until completely smooth. Add raspberry jam and stir to combine. Place uncovered in the refrigerator for 2 hours, or until the chocolate ganache has hardened and is scoopable. Line a large half pan baking sheet or tray with parchment paper. Use a melon baller or a tablespoon to scoop out small portions of the ganache. Use your hands to roll them into 1-inch balls. Place on the baking sheet and freeze for 15 minutes. Place cocoa powder in a small bowl. Drop each truffle in the cocoa powder and roll until completely coated. Store in an airtight container in refrigerator until ready to serve.
Modified from: https://www.aheadofthyme.com/dark-chocolate-raspberry-truffles/
Valentine's M&M Cookies
Ingredients:
½ cup unsalted butter, softened to room temperature
½ cup light brown sugar, packed
¼ cup granulated sugar
1 large egg
1 teaspoon vanilla extract
1 ½ cups all-purpose flour
½ teaspoon baking soda
½ teaspoon salt
1 cup Valentine's M&M's (plus a little more for the tops)
Preheat oven to 350F. In a large mixing bowl, use a hand mixer or stand mixer cream together butter and sugars on medium speed until light and fluffy, about 2 minutes. Add egg and vanilla, and beat on low until incorporated. Add flour, baking soda, and salt and stir with a large wooden spoon until just combined. Fold in M&M's. Use a medium cookie scoop to scoop out 2 tablespoons of cookie dough. Drop onto a large half sheet baking tray lined with a silicone baking mat or parchment paper. For a cookie with smooth edges, use your hands to roll it into a ball. Space the cookies a few inches apart. Press in extra M&M's into the top of the cookies. Bake for 8-10 minutes, until edges just start to brown. Remove from oven and allow the cookies to cool in the baking sheet for 5 minutes, then transfer to a wire cooling rack to cool completely.
Modified from: https://www.aheadofthyme.com/mm-christmas-cookies/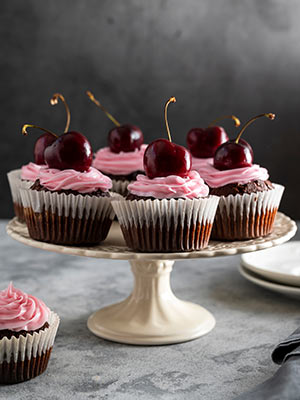 Chocolate Cherry Cupcakes
Cupcake Ingredients:
Blue Diamond Almond Flour chocolate cake mix
2 eggs
¼ cup vegetable oil
½ cup water
¾ cup Bonne Maman Cherry Preserves
Frosting Ingredients:
1 cup unsalted butter, softened
3 cup confectioners' sugar
2 tablespoons heavy cream
⅓ cup Bonne Maman Cherry Preserves
To make the frosting, beat butter on medium speed until fluffy. Gradually beat in powdered sugar until light and fluffy. Beat in cream until frosting reaches spreading consistency. Beat in the cherry preserves. If the frosting becomes too loose or curdled looking, add more powdered sugar, 1 tablespoon at a time until the frosting comes together once again.
Preheat the oven to 350°F. Line 12 muffin cups with paper liners. Set aside. Make cake mix according to directions. Spoon 2 Tbs of batter into the paper-lined muffin pans. Bake for 15-20 minutes or until a wooden toothpick inserted into the center comes out with only a few dry crumbs. Remove cupcakes immediately from pans, and cool completely on a wire rack. Use the point of a sharp knife to cut a small well in the top center of the cupcakes and fill with cherry preserves. Replace the top portion of the cupcake and top with frosting. Garnish with fresh cherries dipped in chocolate if desired.
Modified from: https://www.bakedbyanintrovert.com/chocolate-cherry-cupcakes-recipe/
Raspberry Chocolate Parfaits
Ingredients:
½ cup fresh raspberries
1 tbsp chocolate liqueur
1 box Ghirardelli brownie mix
¼ cup water
1/3 cup vegetable oil
1 egg
Haagen Dazs chocolate ice cream
Whipped cream
Make brownies according to package and let cool entirely. Then cut or crumble into chunks. Toss raspberries with chocolate liqueur; layer with crumbled brownies and chocolate ice cream in 2 glasses. Top with whipped cream and more raspberries.
Modified from: https://www.foodnetwork.com/recipes/food-network-kitchen/raspberry-chocolate-parfaits-recipe-2109821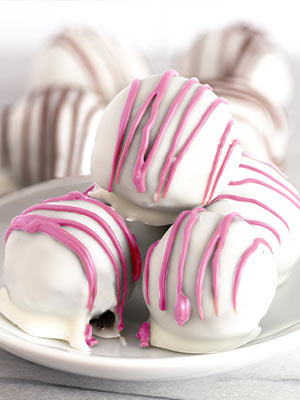 Strawberry Cheesecake Truffles
Ingredients:
1 1/2 cups Honey Maid graham cracker crumbs (about 10 full sheet graham crackers)
4 ounces brick-style cream cheese
1/3 cup confectioners' sugar
1/3 cup finely diced strawberries
10 ounces Guittard white chocolate chips
optional: 1 drop red or pink food coloring
Line a large baking sheet with parchment paper or a silicone baking mat. Set aside. Using a handheld mixer or a food processor, mix the graham cracker crumbs, cream cheese, and confectioners' sugar together. It may not come together at first, but if you keep mixing– and even use your hands for a minute– it will all come together to form 1 big clump. With a rubber spatula or wooden spoon, stir in the strawberries. The mixture will be wet from the strawberries. Drop balls– about 1.5 – 2 teaspoons of mixture per truffle– onto the lined baking sheet. Chill in the refrigerator for 30 minutes. During this time, the truffles will "set" making them easier to roll into smooth balls. Roll into smoother balls after they've been refrigerated. Place back into the refrigerator as you melt the chocolate. Coat in chocolate: Melt the white chocolate in a bowl placed over a small simmering pot of water to melt evenly. Dip each truffle completely into the chocolate using the spiral dipping tool or a fork. When lifting the ball out of the chocolate, remember to tap the dipping tool gently on the side of the bowl to allow excess chocolate to drip off. Place balls back onto the baking sheet after you dip each one. Stir food coloring into any leftover white chocolate, then drizzle over truffles. Refrigerate for 30 minutes or until chocolate has completely set before serving.
Modified from: https://sallysbakingaddiction.com/5-ingredient-strawberry-cheesecake-truffles/
Strawberry Cheesecake Chimichangas
Ingredients:
4 oz. cream cheese, softened
1 tsp. lemon zest
1 tbsp. sugar
1/2 tsp. pure vanilla extract
4 flour tortillas
2 c. chopped strawberries
2 tbsp. butter, divided
2 c. cinnamon sugar
Melted Guittard chocolate chips, for drizzling
In a small bowl, combine cream cheese, lemon zest, sugar and vanilla. Mix until smooth. Spread the cream cheese mixture on each tortilla then top with strawberries. Roll tortillas up like a burrito. In a medium nonstick pan over medium heat, melt 1 tablespoon butter, then add two chimichangas. Cook until golden on both sides, about 4 minutes per side. Immediately toss the cooked chimichangas in cinnamon sugar. Repeat with remaining chimichangas. Drizzle with melted chocolate before serving.
Modified from: https://www.delish.com/cooking/recipe-ideas/recipes/a52627/strawberry-cheesecake-chimichangas-recipe/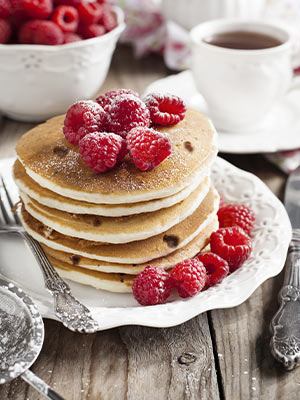 Chocolate Chip Pancakes
topped with Strawberries and Raspberries
Ingredients:
Snoqualmie Falls pancake mix
Guittard milk or dark chocolate chips
Golden Griddle maple syrup
Fresh raspberries and strawberries, sliced
Confectioner's sugar
Make pancake mix according to package directions. Add a handful (or two, or three, depending on how much pancake mix there is) of chocolate chips and mix evenly. Cook the batch of pancakes. Stack pancakes onto plates, then top with fresh fruit. Drizzle with maple syrup and dust confectioner's sugar over the top.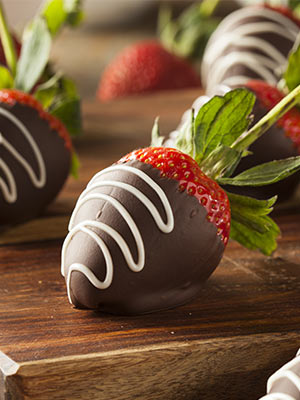 Chocolate Covered Strawberries
Ingredients:
1 package of fresh strawberries, rinsed and fully dried
1 package Guittard dark chocolate chips
Optional: Guittard white chocolate chips
Heat water in a small pot over the stove until simmering. Pour dark chocolate chips into a bowl and place bowl over simmering water to allow the chocolate to melt. Stir occasionally until fully melted. Pull chocolate off heat. Dip each strawberry into melted chocolate, letting excess drip off, then place on baking paper on a cookie sheet. Place sheet with strawberries in the fridge for at least 30 minutes until the chocolate hardens. Optional: melt some white chocolate the same way and place into a piping bag. Drizzle melted white chocolate back and forth quickly across completed strawberries for a bit of a design. Put back in fridge to harden chocolate.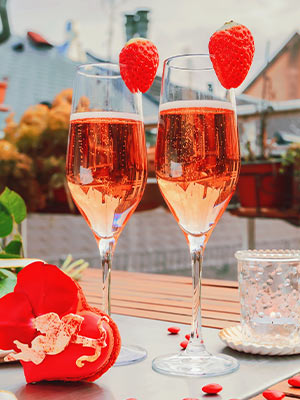 Sparkling Valentine
Ingredients:
1 bottle Domaine Ste Michelle Brut
Ocean Spray Cran-Raspberry juice
Chambord
Fresh strawberries
Pour ½ oz each of Chambord into 2 champagne flutes. Fill glasses ¾ full with brut. Top with a splash of cran-raspberry juice, turning the cocktails into a nice shade of pink. Cut a slit halfway through the middle of 2 strawberries, and place on the side of each glass. Voila!