Charles Koh, founder of Eat Seattle, a local food and lifestyle publication that showcases restaurants news, reviews, and eye-catching photography in the Pacific Northwest, shares his top wine picks and pairings from his local Bartell's.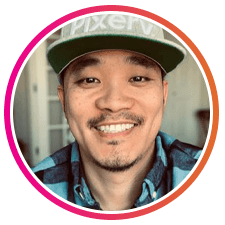 Are you ready to host your next wine pairing at home? Bartell's got you covered.
I recently visited my local Bartell Drugs in Newcastle, WA where I picked up a handful of local wines and snacks to create the ultimate tasting flight + wine pairings. During my visit, I was quite surprised by how affordable all the wines were, the lowest I saw was $4.99 and the highest didn't go over $16.99. The selection included many great WA brands and bottles that rank high on the Wine Spectator List such as Chateau Ste. Michelle, Columbia Crest, Hogue, ERATH, 14 Hands, Mary Hill and many others.
Here are the wines I chose for my Bartell Tasting Flight:
Sauvignon Blanc from Chateau St Michelle, $9.99*
Sangiovese from Barnard Griffin Winery, $9.99*
Founder's Red Blend from Waterbrook, $11.99*
Cabernet Sauvignon from Charles Smith, $16.99*
Cabernet Sauvignon from Josh Cellars, $14.99*
Some of the snacks I used to pair these local Washington wines include cheese and crackers with tomatoes, cheddar popcorn, smokehouse nuts, whole cashews, milk and dark chocolates, local honey, and dried fruits – all of which you can pick up at your local Bartell Drugs. I'll be including the exact names in the pairing description next to each image.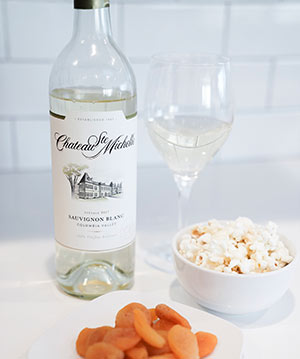 The first wine is a Sauvignon Blanc from Chateau Ste Michelle the oldest winery in Washington state. The wine has aromas of pink grapefruit, tropical fruit with slight spritzy fruit flavors. For this wine I paired it with some Uncle Woody's white cheddar popcorn and dried apricots. At only $9.99, this wine is one of the best values that go with many great dishes like Indian, Thai and Chinese Cuisine.

Did you know, Chateau Ste Michelle produces over 8,000,000 cases of Riesling wine per year?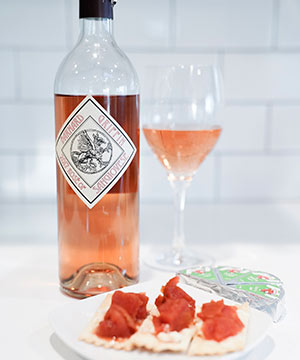 The next wine pairing is with a Sangiovese from Barnard Griffin Winery for only $9.99. If you've noticed, all these wines are very affordable. This wine from the Columbia Valley fills your mouth with plush-textured cherry and ripe raspberry notes to give you a refreshing taste. For this wine, I paired it with La Panzanella artisan crackers and Laughing Cow cheese topped with Italian recipe tomatoes with garlic, oregano & basil. The taste you'll get is a creamy, crunchy, pizza flavor bite that goes really well with this rosé.
The fun thing about wine pairings is you can play around with different combinations of foods and snacks to see if it they fit together or not. For the third wine, I paired some local Theo's dark chocolate with the Waterbrook Melange Founder's Red Blend 2016 from Columbia Valley. The red blend was quite nice and juicy, I'd see this pairing go well with a wine with higher residual sugar like a Zinfandel or a New World Pinot Noir, as well.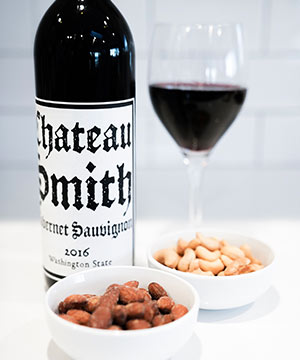 The fourth wine I paired is the Cabernet Sauvignon from Charles Smith priced at $16.99. This wine is a full-bodied cab that stays true to the old-world winemaking style from Bordeaux, which is no surprise to its many awards that have been won. For this wine, I paired it with a jar of smokey almonds from Blue Diamond, as well as some mellower cashews to bring out the flavors. If you're looking to pair this with dishes, you can try barbecued meats, beef, lamb, pork, sausages, and cured meats.
Among local wineries, you can also pick up wines from outside our region such as Napa Valley, Carneros and the North Coast of California at a great approachable price. For this last wine, a Cabernet Sauvignon, it's a full-bodied wine is packed with aromas of ripe fruit, cedar, cinnamon and flowers on the nose. For this wine, I paired it with Zoe's Meats, an artisan salami that has flavors of salt, pork, garlic and pepper to be very forward.
I hope you also enjoy this tasting flight and pairing experience, using all wine and snacks from your local Bartell Drugs. You too can create and customize a tasting flight and pairing using your favorite wines and snacks. The great thing about wine is that there is a perfect bottle for everyone.
*Pricing on wine varies weekly. Check back often for great deals on select wines!