Whether you're decluttering and organizing for religious reasons, personal satisfaction, or to reclaim your space, it can be a daunting task. As always, Bartell's is here to help! Our tips and checklists will help you get the job done, hopefully, with less stress. Quick note, if you are looking to donate unwanted items, call ahead to see if/what your nearest donation center is taking. Some locations weren't taking certain soft goods such as plush toys, cushions, and pillows during the pandemic, but limitations may have or will change as public health concerns evolve.
Take it one area at a time.
Going room by room will help you break the big project into more manageable tasks. It also gives you hits of personal satisfaction as you knock out each section, which we find is extra helpful in staying motivated.
When looking to downsize anything around the house, you can lean on the wisdom coined by Emily Ley, Marie Kondo, and 19th-century designer William Morris. Is your item the best one you have, your favorite, frequently necessary, beautiful, or spark joy? If the answer to all those questions is no, then it's time to part ways.
Consider keeping a 'donation box' in a convenient location. When you come across something that no longer meets the above criteria, put it in the box. When the box is full, pass along the contents.
Ready to start? Here are a few quick checklists for tackling the whole house.
Bedroom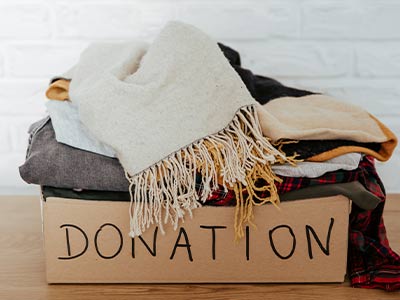 In the bedroom and closets, put out of season keepers into storage. Combine Marie Kondo's folding technique to make your clothes physics-defyingly small with storage bins or vacuum storage bags fit as much as possible into the least amount of space.
If it hasn't fit or been worn for a year donate it, recycle it, or pass it along. Alternately, you can use the 90/90 rule. If you haven't used it in the past 90 days, and don't foresee yourself using it in the next 90 days, pass it along. Haven't worn that awesome concert tee, but can't bear to part with it? Put it in a t-shirt frame and put it up somewhere it can generate a daily smile.
If you're planning to donate to charity, make sure that you are giving directly to a legitimate non-profit organization, like Goodwill, or other not-for-profit thrift shops. Some thrift shops give the impression that they support charities, but the actual amount of their donations is relatively minute.
Another option is to pass things along to folks in your neighborhood via community groups like Buy Nothing, which has Facebook groups around the Puget Sound, or Next Door.
Utilize space under the bed if you have it and if you do be strategic. Think more Tetris and less sticking something partway underneath and kicking it until it's out of sight or stops moving.


Living Areas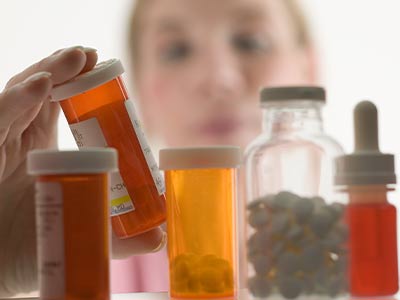 Medicine Cabinets
Safely Dispose of expired or unused medication by dropping it off at any Bartell's location. Secure collection boxes are located near the pharmacy.


Under Sinks
Take inventory of unused chemicals. If you don't foresee yourself using them again, take the steps to dispose of them properly. Here are links to several local resources:
King County
Pierce County
Snohomish County


Games & Puzzles
Have your board game and puzzle collections grown out of control since the beginning of quarantine? Take stock of which ones you play frequently in various circumstances – solo, 2, 3, 4+ players, with kids, etc., and consider passing the others along, or even creating a sharing circle. Many of us are in the same position, especially on the puzzle front, so being able to circulate puzzles and games within a trusted community keeps it fun and fresh for all involved.


Furniture
Are you tripping over an ottoman or coffee table more frequently than you use them? It could be time to move on. Or if you need an ottoman but want more storage, explore options with built-in storage to minimize wasted space.
Have the kids outgrown their tiny Ikea furniture? Take one more pic of them using it for posterity (prom embarrassment) and hand it down. If you're looking for a good place to donate furniture or even buy used furniture, try Habitat for Humanity. Call ahead or check online to see if the location nearest you has a strong focus. For instance, the Tukwila location is large but caters toward contracting and renovation supplies (tools, doors, plumbing fixtures, etc.) with a smaller section for furniture, while the Bellevue location has a more modest showroom almost completely dedicated to furniture with some appliances and only a light selection of remodeling/renovation supplies.
For some, it's a point of pride to have an extensive library of books, CDs, and DVDs. With movie, e-book, and music streaming services having larger libraries than ever before, it may be time to re-evaluate which physical versions are worth the square footage. Most major artists and studio releases are available on at least one streaming platform, however, there are several categories (e.g. local, indie, international) that may be worth keeping the physical versions. If you're a true cinephile, early DVDs tend to have more commentary tracks, behind-the-scenes, and special features than their later editions. And don't discount the box art! Maybe downsize to a binder, only keeping the cases with your favorite art. Put them in a shadow box or frame to display in your screening room (aka basement mudroom).
If you're sitting on stacks of magazines, consider snipping your favorite recipes and putting them in a binder. If you have kids, you can save a healthy stack – stored out of sight – for collages and other art projects.


Designate a go-backs basket
If you've ever been in retail, you likely have a love/hate relationship with go-backs (aka abandoned and unwanted items gathered up, in a basket or shopping cart, to be returned to shelves). Bring the fun home! Gather up items that have migrated from their home areas and put them away at the end of the day. If you have kids, this is a must. You can take a quick inventory and task the worst offender with making sure everything goes back to its home zone.


Kitchen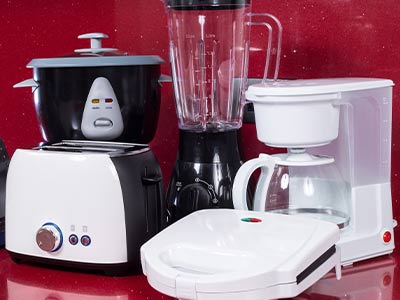 Re-meet your makers
Start by taking inventory of anything with the word "maker" in it. Ask yourself "when was the last time I've used this?". If the answer is 1+ years ago, considering passing it along.


A home for the holidays
Cabinets full of holiday plates, placemats & serving dishes? Pull them out and store them alongside the other decorations. This'll both save space and save you from the frustration of accidentally finding the Halloween serving plates you forgot you had when you're looking for the Thanksgiving placemats.


Hey, does this smell off to you?
Pitch food past its expiration date. It sounds easy, but we're always surprised by the amount of randomness we find pushed to the back of cabinets and pantries.
Make sure to do the same in the freezer. If it's beardy, it's probably been in there too long. Withered fun-shaped ice cubes from the last time you had a fancy cocktail night? Pour them out. Still sitting on homemade popsicles from last summer? Say a few words before they go in the sink.


Papa's got a brand-new bag.
If you are a frequent user of plastic storage bags, consider making the switch to reusable bags. Bartell's carries reusable and dishwasher-safe silicone storage bags to save space, money, and reduce the impact on the environment. Read about how to reduce your single-use plastic and the amazing 'green' companies we carry in-store here.


Office & Documents
Know when to hold em'.
Consumer Reports has a great article that outlines how long you need to hold onto your statements, returns, reports, and documents. Follow their outline to keep your paperwork under control, especially if you can review and reconcile them as soon as they arrive.


Enter the matrix
Digital statements can save lots of paper and time shredding over the long run.
Apps like Cozi help organize shopping and to-do lists, while apps like Mint can consolidate digital statements and banking across multiple sources and categories.


A place for everything…
Consolidate items like tape, rubber bands, batteries, and light bulbs so that they aren't spread around the house.
Now the trick will be remembering where you put them.


Entryway & Closets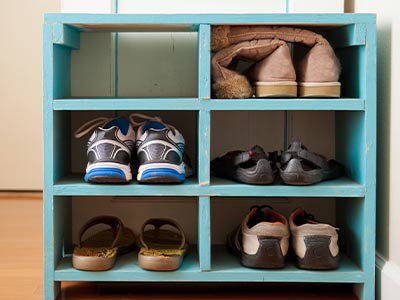 Have a nice trip?
Stumbling over piles of shoes on your way in or out of the house? Depending on your available space, you can try a bench with baskets, or a standing rack near the door to make it easy and convenient to organize as you come in from the out.
If you have a sturdy closet rod, you could alternatively add a soft-sided hanging shoe cubby. A bonus upside for a closet cubby is its discrete placement keeps it out of sight.
Keep it Up
Now that you've done the work maintain it! Regular small tidies are much easier than a massive annual effort.
Have a decluttering tip of your own? Leave it the comments below!