National S'mores Day is August 8th! And what's more fun that making s'mores by the campfire in summertime? Making some unique and delectable s'mores concoctions, of course! Here are 10 different versions of s'mores to try out before the summer is over – or all year long when the season turns from campfire to indoor fireplace! Try one of these fun combinations or dream up your ultimate s'more with an unlimited variation of ingredients.
*All ingredients listed are available at Bartell Drugs except those with an asterisk. Product selection and stock levels may vary per store.
Peanut Butter Goodness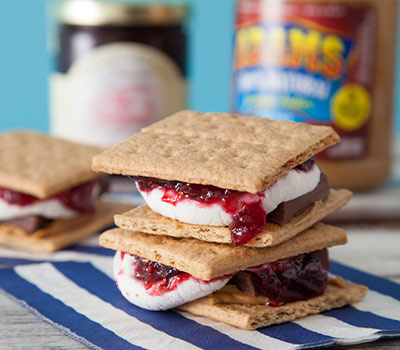 PB&J S'more
Adam's 100% Natural Peanut Butter
Maury Island Jam –
try Strawberry or Marionberry! (LOCAL!)
Campfire Marshmallows
Honey Maid Graham Crackers
Turn the sandwich classic into a crunchy, gooey s'more. Try it with your favorite flavor of jam!
Chocolate Peanut Butter Banana S'more
Honey Maid Graham Crackers
Campfire Marshmallows
Theo Dark Chocolate Bar (LOCAL!)
Adam's 100% Natural Peanut Butter
Banana, sliced*
Having been a child that ate peanut butter banana sandwiches, even just staring at this idea makes my mouth water. Can we consider this s'more healthy because it has fruit? I think so.
Snicker's S'more
Honey Maid Graham Crackers
Campfire Marshmallows
Snicker's bar, sliced in half length-wise
You could make a s'more out of almost any candy bar you could think of, but my personal favorite is Snicker's. Alternatively, try a Milky Way or 3 Musketeers bar!
Sandwich Cookie Perfection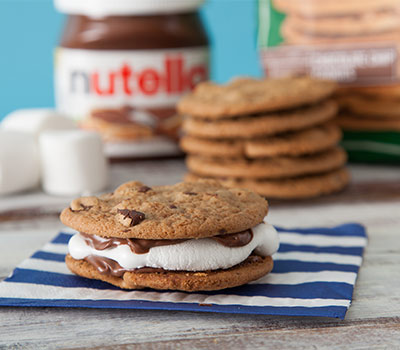 Nutella Cookie S'more
Tate's Bake Shop Chocolate Chip Cookies
Campfire Marshmallows
Nutella Hazelnut Spread
This s'more totally levels up by using chocolate chip cookies in place of graham crackers. 2 cookies sandwiched together with marshmallow and Nutella?! YES.
Samoa S'more
Girl Scout Samoa Cookies*
Campfire Marshmallows
Hershey's Milk Chocolate Bar
Got some leftover Girl Scout Cookies? Yeah, me neither. But if you're someone who bought a ton and popped them in the freezer (so jealous!), replace the graham crackers with 2 samoa cookies, and woah! – you're in for a treat.
Ginger S'more
Anna's Ginger Thins
Campfire Marshmallows
Theo Dark Chocolate Ginger Bar (LOCAL!)
Gingerbread cookies are one of my favorites. You could make them from scratch, or go the easy route with these crispy Anna's Ginger thins.
S'moreo
Oreos
Adam's 100% Natural Peanut Butter
Campfire Marshmallows
Honey Maid Graham Crackers
Hershey's Milk Chocolate Bar
I only recently found out that Oreos and peanut butter were a thing. This s'more is a must-try for my next camping adventure!
Created by: Taste of Home
Sweetly Gooey and Satisfying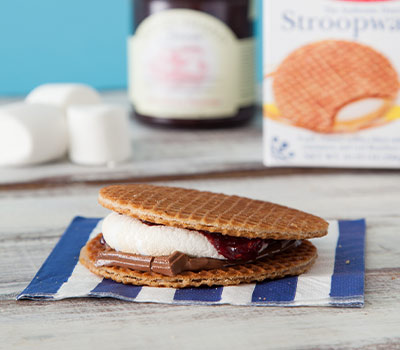 Dutch S'more
Daelmans Stroopwafels
Maury Island Jam
Hershey's Dark Chocolate Bar
Campfire Marshmallows






I recently discovered Stroopwafels at my local Bartell's. Stroopwafels are delicious Dutch wafer thins with a tiny bit of honey in the center. They make an awesome replacement for graham crackers! Pro tip: you can use a spoonful of microwaved frozen berries instead of jam. Adds a bit of tartness to balance out the sweet!
Rice Krispie S'more
Kellogg's Rice Krispies Treats
Campfire Marshmallows
Seattle Milk or Dark Chocolate Bar (or your favorite flavor! LOCAL!)
Rice Krispies are one of my favorite snacks in existence. Cut one in half so it's not super thick to bite through, add a toasty marshmallow, slap a slab of your favorite chocolate in there, and voila!
Peppermint S'more
Dewey's Bakery Cookie Thins Brownie Crisp
Campfire Marshmallows
York Peppermint Pattie 
Replace your traditional graham cracker with chocolate crisps and add a peppermint patty for melty, minty goodness!
Which one will you try first?