Did someone say fall? Bring on the pumpkin-spiced everything. Pumpkin spiced lattes, pumpkin bread, pumpkin soup, pumpkin muffins – you name it. If you can dream it, it's probably been done. Pumpkin has taken the world by storm, and for today's purposes, also this blog. So if you're interested in trying any pumpkin spiced cocktails, read on! (Oh, okay, fine – and a few apple cider ones, too.)
*Ingredients in bold are available at Bartell's. Selection may vary by store.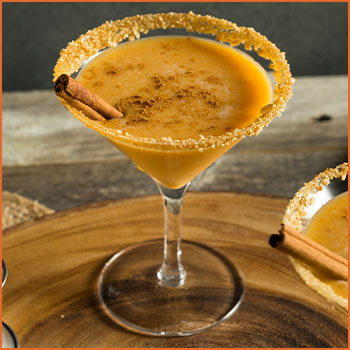 Pumpkin Spice Martini
1.5 oz Smirnoff Vanilla Twist Vodka
1.5 oz Bailey's Irish Cream
1.5 oz Pumpkin flavored liqueur
Dash of cinnamon
Dash of nutmeg
Pour the vanilla vodka, Irish cream liqueur, and pumpkin flavored liqueur into a cocktail shaker over ice. Cover, and shake for 20 seconds. Strain into a chilled martini glass, and garnish with a sprinkle of ground cinnamon and ground nutmeg to serve. You can also rim the glass with a mix of sugar and ground pumpkin pie spice for extra flair.
*Modified from https://www.allrecipes.com/recipe/180314/pumpkin-spice-martini/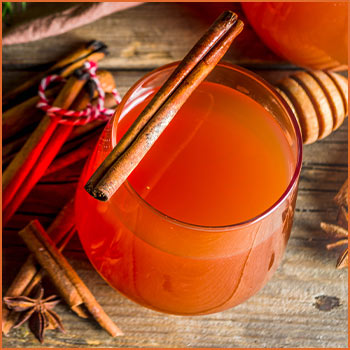 Bourbon Pumpkin Punch
1 oz Libby's 100% Pure Pumpkin
1 tsp Sue Bee Honey
1 oz fresh lemon juice
2 oz Jim Beam Bourbon
1/8 tsp grated fresh ginger (you can use a dash of ground ginger instead)
1/8 tsp ground cinnamon
3 oz Fever Tree Ginger Beer
Garnish: (optional) 1 cinnamon stick, Sage leaf, dash of ground cinnamon
Place all ingredients except the ginger beer in a cocktail shaker and shake vigorously. Strain ingredients over ice in a glass. Lightly stir in the ginger beer, and garnish your cocktail with a cinnamon stick and a couple sage leaves if you're feeling fancy.
*Modified from https://domesticate-me.com/spiced-pumpkin-punch/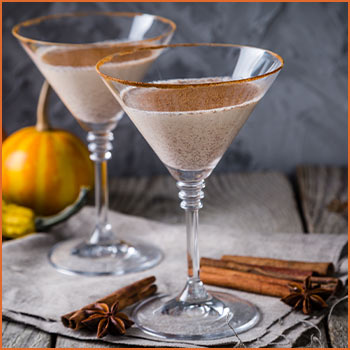 RumChata Pumpkin Pie Martini
2 parts RumChata Cream Liqueur
1 part Smirnoff Vanilla Twist Vodka
1 part Pumpkin liqueur (or 3 tablespoons pumpkin pie filling)
Garnish: ground cinnamon
Pour ingredients into a cocktail shaker filled with ice, shake well. Strain into a chilled martini or cocktail glass. Sprinkle with a dash of cinnamon and enjoy!
*Modified from https://www.thespruceeats.com/rumchata-pumpkin-pie-martini-recipe-760971
Make it a mocktail!
1/4 cup half and half
1 tbsp Nestle Carnation sweetened condensed milk
1/8 tbsp Libby's 100% Pure Pumpkin
Dash of pumpkin pie spice
1/2 cup ice cubes
crushed graham cracker crumbs
extra sweetened condensed milk
Pour some extra sweetened condensed milk onto a plate and drip the rim of your glass in. Sprinkle on some graham cracker crumbs to rim the glass. Mix the half and half, sweetened condensed milk, pumpkin puree and pumpkin pie spice in your cocktail shaker. Add the ice, close and shake for 30 seconds to mix the drink. Strain the frothy mocktail into the rimmed glass then enjoy cold.
*Modified from https://mocktail.net/pumpkin-pie-martini-mocktail/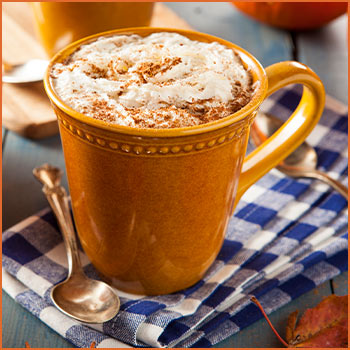 Hot Pumpkin Pie Cocktail
4 oz milk
2 oz Baileys Irish Cream
1.5 oz Smirnoff Vanilla Twist Vodka
1 tbsp Libby's 100% Pure Pumpkin (you can add more if you want a thicker drink)
Dash of pumpkin pie spice
Whipped cream
Heat the milk, Irish cream, and vodka to medium heat in a small pot. Stir in pumpkin and pumpkin pie spice quickly to incorporate. Serve warm in a mug, topped with whipped cream, and garnish with a little more pumpkin pie spice or cinnamon.
*Modified from https://www.thecookierookie.com/hot-pumpkin-pie-cocktail/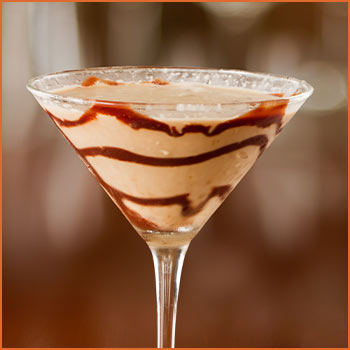 Chocolate Pumpkin Gingerbread Martini
Crushed gingersnap cookies
Chocolate syrup
1.5 oz Kahlua Liqueur
½ shot Chocolate Liqueur
½ shot Ginger Liqueur (or ginger syrup, you can make this yourself)
1 tbsp Libby's 100% Pure Pumpkin
Splash of heavy cream (or sub half and half)
Pumpkin pie spice or ground cinnamon for garnish
Rim a martini glass with crushed gingersnap cookies. Drizzle chocolate syrup in martini glass. Add all other ingredients in a shaker with ice and shake. Strain into prepared martini glass and sprinkle with extra spices.
*Modified from https://theblondcook.com/chocolate-pumpkin-gingerbread-martini/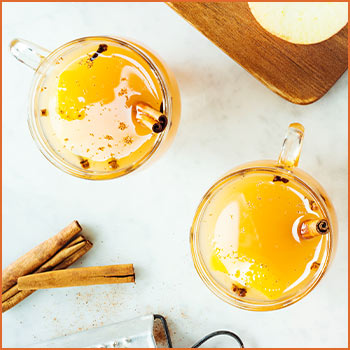 Spiked Hot Apple Cider
1 cup apple cider
1 tsp orange juice
½ cinnamon stick
2 whole cloves
1 whole star anise
1.5 oz Bulleit Bourbon
1 slice orange, for garnish
Place the apple cider, cinnamon stick, orange juice, cloves and star anise in a small pot and bring to a boil. Lower to a simmer for 10 minutes. Star anise can be a strong flavor, you may want to remove it after a few minutes. Remove from heat and strain into a mug. Add bourbon and garnish with the orange slice.
*Modified from https://www.vindulge.com/bourbon-spiked-hot-apple-cider/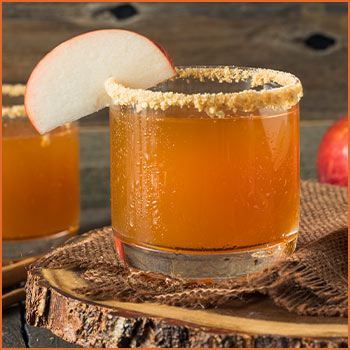 Apple Cider Cocktail
1 cup apple cider
1.5 oz Captain Morgan dark rum
½ shot of Fireball Cinnamon Whisky
1 slice apple, for garnish
Pour all ingredients into a glass with ice and stir. Add apple wedge for garnish.
Sweet and Spicy Pumpkin Mocktail
1/2 cup Libby's 100% Pure Pumpkin
2 cups unsweetened Vanilla Almond Milk
3 tbsp Golden Griddle maple syrup
4 tsp pumkin pie spice
1/2 tsp cinnamon
ground nutmeg for garnish
In a blender, put together puree, almond milk, maple syrup, pumpkin pie spice and cinnamon. Blend on high until smooth. Once ready, add to a cocktail shaker with ice and shake. Serve in your preffered glass. Garnish the drink with a dash of ground nutmeg.
Please drink responsibly.