Keep it small, shareable, and super tasty with these Labor Day tapas ideas!
We share 4 easy and satisfying recipes to plus up your holiday, or any day.
As always, bolded items can be found at your local Bartell's.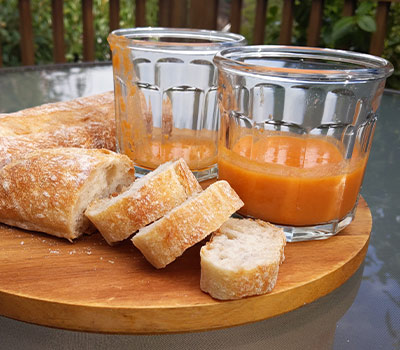 Gazpacho
Although detractors may reductively (although not entirely inaccurately) consider gazpacho to be a cold vegetable smoothie, a good gazpacho is a cool, fresh, tangy, garlicky, tomato-based 'soup', that is equally delicious as a snack, an appetizer, or morning pick-me-up.
Ingredients
2 lbs. of tomatoes
1 medium bell pepper
3 to 4 cloves of garlic
1 medium cucumber
1/3 to ½ yellow onion
½ cup of
olive oil
¼ cup
red wine vinegar
Salt
to taste
OPTIONAL: 2 good dashes of
cumin
At least 1 loaf of French bread
Instructions:
Before you start prepping, get your blender out so you can add in the ingredients as you go.
Score "X"s on your tomatoes making sure that you are piercing the skin, but not cutting deeply.
Blanch the tomatoes in boiling water for 2-3 mins.
Pull them out, rinse them under cold water to help cool, and set them aside to cool further.
Peel, halve, and de-seed the cucumber before chopping it into small pieces.
De-seed and chop the pepper into small pieces.
Dice the onion.
Peel and crush the garlic cloves.
Peel the tomatoes and put the peels into a strainer over a bowl.
Crush the peeled tomatoes into the blender. At the center of the tomato, there will be a core that doesn't squish easily. Once that's what's left, put it in the strainer.
(OPTIONAL BUT RECOMMENDED) Over the blender, put your fingers in the strainer and squish as much juice out of the peels and cores as you can. Use a spoon or spatula to scrape the tomato squeezings from the bottom of the strainer.
Blend the ingredients as finely as you'd like. We run our blender on puree until the gazpacho is mostly smooth.
 
Serve it in a hi-ball glass or small bowl with 1-inch thick slices of the crusty French bread for sopping.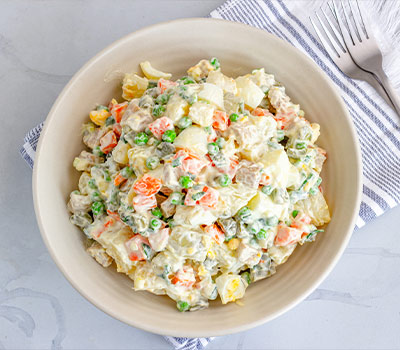 Ensaladilla Rusa
aka Russian Potato Salad
aka Olivier Salad
Why is Russian Potato Salad on this list of Spanish tapas? Great question. Although the origins of the modern version of this beloved potato salad are steeped in 19th-century haute cuisine, secret recipes, and culinary espionage, the short answer is that "Russian" potato is extremely popular in Spain, Mexico, and the southern reaches of South America.
Skullduggery and chef's hats aside, this potato salad variant is a definite crowd-pleaser.
Ingredients
1-1 ½ lbs. Yukon gold potatoes
2 hard-boiled eggs
3 spoons of cooked peas
½ cup of
mayonnaise
2 carrots, grated
2 5 oz. cans of Albacore tuna packed in olive oil
(Optional/Tuna substitute) –
1 dill pickle, finely chopped
5-6 oz. of Green (preferably Spanish) olives – some sort of stuffing (pepper, garlic, etc.) suggested – chopped
8 oz. mini cocktail shrimp, drained if packed in liquid.
Instructions:
Cut the potatoes into quarters and place them in a pot of cold, salted water, set the heat to medium-high, and bring to a boil. When the water boils, bring the temp down to low and simmer for 9 minutes or until tender.
Pull off the heat, put in a colander, run under cold water, and set aside to cool.
Once the potatoes have cooled, cut them into bite-sized pieces.
Mix all of your ingredients, adding salt and pepper to taste.
It's best if it's made ahead of time and chilled for several hours before serving.
This Ensalada makes a solid side dish or a suitable sidekick to the other tapas on this list.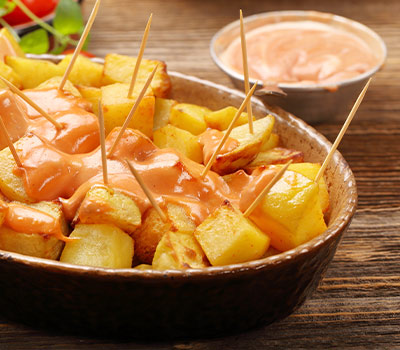 Patatas Bravas
Patatas Bravas is one of the staples of any Spanish tapas menu. What's a more classic combo than potatoes and sauce?
Although traditionally fried, we go roasted to cut the down on the oil. Our brava sauce recipe leans towards the traditional, with a tomato base, spiced with either paprika or hot sauce, depending on your pantry or preference.
Ingredients
Kewpie Mayo
Patatas
2 1/2 lbs. of Yukon gold potatoes, peeled and cut into equal-sized pieces
1 tablespoon of olive oil
1 teaspoon garlic powder
½ teaspoon of table or other small grain salts
a couple of twists of fresh ground pepper
Brava Sauce
¼ yellow onion, diced
4 cloves of garlic, crushed
15 oz. tomato puree
½ tbs. hot smoked paprika (substitute option: swap the hot smoked paprika for 2-3 dashes of your favorite hot sauce).
1 tbsp. of sweet smoked paprika
½ cup broth (chicken or beef is traditional, but mushroom or vegetable broth will work if you want to avoid the animal product)
Salt to taste
Instructions:
Potatoes
Preheat your oven to 425
Toss the bite-sized cubed potato pieces in olive oil, garlic powder, and salt in a bowl until evenly coated and pour onto an appropriately sized, parchment paper-lined, baking sheet.
Cook for 30-35 mins.
Stir halfway through while checking done-ness and adjusting remaining cook time.
The result should be cooked through and golden brown.
Brava Sauce
Sautee yellow onion and garlic until softened and fragrant.
Add both paprika varieties (or spicy substitute), tomato puree, broth, and two pinches of salt.
Return to simmer, stirring occasionally for 8-10 minutes.
OPTIONAL: let it cool for a bit, then blend until smooth.
Pour the sauce over the roasted potatoes and drizzle the Kewpie Mayo over the top to add some creaminess. Dig in quickly after combining them so the potatoes are still crisp when consumed. Super good!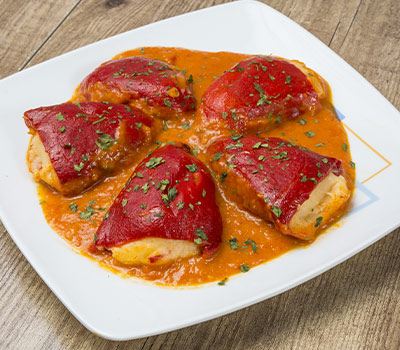 Piquillos & Manchego
This tapa is criminally easy and so tasty you'll question their legality. This is one of our favorites because of the exponential difference between the low level of effort and the extra delish outcome.
Ingredients
16 oz. can/bottle of whole roasted piquillo peppers
1 lb of Manchego cheese.
Instructions:
Put a medium-sized, non-stick frying pan onto a low-medium heat
Drain most of the liquid out of the pepper container and pull the peppers out.
Cut the manchego into thin slices (in the neighborhood of the thickness of a Kraft single).
Insert 2-3 manchego slices into the peppers
Put the pepper into the pan and cook flipping occasionally until the pepper is warm and the cheese begins to melt.
Remove and serve.
What could be easier?!
We hope you love these recipes.
Plus Ultra!