Love your skin? You should! It's the largest organ of the body and is essential to your whole health. Your skin protects you, regulates your temperature and provides the sense of touch. That's why it is so important to care for it.
What contributes to skin health?
Skin issues can happen to everyone. The good news is that knowing the root cause can help clinicians advise you on a course of treatment. Here are a few of the factors that can impact your skin health.
External factors:
Allergens & irritants
Infections
Medications
Soaps & detergents
Season, temperature & humidity
UV rays
Internal factors:
Age
Underlying diseases
Immunity
Diet
Alcohol or tobacco use
Stress
What are common skin conditions?
Acne
Atopic dermatitis or eczema – Itchy, dry rash-like skin
Psoriasis – A chronic, inflammatory disease that creates patch-like flaking skin
UV damage or sensitivity
Rosacea – A chronic, relapsing, inflammatory disorder that causes red skin & occasional lesions
Do these things every day:
There are some basic things you can do to help improve your skin health.
Use water-resistant sunscreen SPF 30 or greater, every day
Clean your skin twice a day with a non-soap, alcohol-free cleanser
Moisturize your skin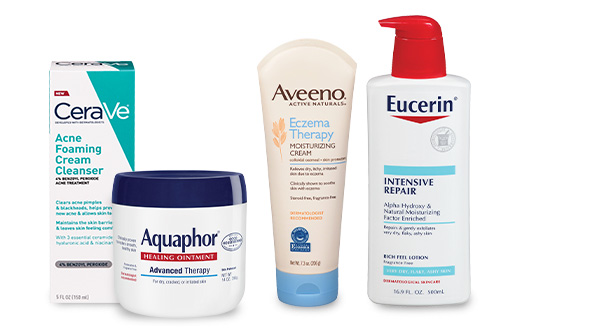 Moisturizers and Ceramides:
Moisturizers can improve hydration and decrease inflammation. It may be beneficial to choose a moisturizer that contains ceramides.
Ceramides are naturally occurring lipids that help to seal moisture in and keep harmful elements out. Ceramide levels may decrease with age and environmental exposure.
Here are some common skin conditions associated with low ceramide levels, and how to choose the right products for them.
Acne – Choose a moisturizer that is oil-free and non-comedogenic (won't clog pores)*
Atopic dermatitis or eczema – Avoid products with added fragrances, perfumes or sensitizing agents, as they can further irritate the skin*
Psoriasis – Moisturizers can be used in combination with topical corticosteroids to treat psoriasis and help decrease symptoms*
*https://www.pharmacytimes.org/courses/the-essential-roles-ofceramides-and-the-skin-microbiome-to-promote-skin-health
When to see a healthcare professional:
If your skin concerns don't seem to be improving, despite your best efforts, it might be time to see a healthcare professional. They may prescribe medications that can help.
*These statements have not been evaluated by the Food and Drug Administration. These products are not intended to diagnose, treat, cure or prevent any disease.
Always consult with a healthcare professional before starting any new vitamins, supplements, diet or exercise program, before taking any medication, or if you have or suspect you might have a health problem.