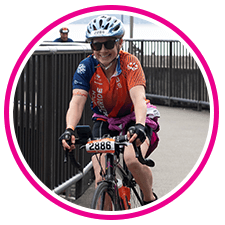 Athlete, advocate, and two-time cancer survivor Michelle McGree was first diagnosed with breast cancer eight years ago, at the age of 28. Her choice to have a double mastectomy gave her a less than five percent chance of having a recurrence, but four years later, the cancer was back.
This time, the diagnosis was more advanced, and the cancer had spread to her lymph nodes. But because of research, doctors had a new treatment — one that wasn't available just a few years ago.
"I remember my oncologist telling me he had something for my treatment," says Michelle. "The word option was an absolute game-changer." She took a recently developed drug for almost a year and a half, and is now a dedicated patient advocate who is continuing her life and goals eight years past her original diagnosis.
Gold-standard cancer research, and the funding to make it possible, are what make new and better treatments possible — for Michelle, and for millions of patients and families.
That's why, throughout the month of October, Bartell Drugs and P&G are partnering with Fred Hutchinson Cancer Research Center to fund lifesaving breast cancer research, raise awareness, and recognize women and men who have faced or are facing breast cancer.
"Cancer doesn't define people, nor does it discriminate. Fred Hutch is an amazing organization that is driven by the needs of patients and their families – and that directly aligns with Bartell's mission to provide exceptional service that advances health, happiness and wellbeing," says Hannah Kubiak, Communications Manager for Bartell Drugs. "With the support of P&G, we're pleased to partner with Fred Hutch because for more than 40 years, this premier scientific organization, located right here in Seattle, has been a leader in breakthrough cancer research. Fred Hutch researchers were the pioneers of lifesaving bone marrow transplants, and today, they are continuing to drive science forward to prevent, treat — and eventually cure most, if not all, cancers."
In the United States, an estimated 268,600 people will be diagnosed with breast cancer in 2019, and nearly 63,000 will be diagnosed with earlier, non-invasive forms of breast cancer. For each of these people, and for their families, new options and treatments are critically important.
"When you are diagnosed with cancer, you . . . can't help but get surrounded by percentages and odds," says Michelle. "But what if, instead of a world of odds, we had a world of answers?"
"Research," she says, "is how we propel forward into unchartered waters, where someone newly diagnosed has hope. Where survivors live without fear. Where we have answers. When it comes to cancer, success is measured in lives. There is no greater impact."
Bartell's is honored to support advocates and survivors like Michelle by supporting the powerful cancer research happening every day at Fred Hutch, by encouraging early screening and awareness, and by recognizing everyone who has faced or is facing breast cancer.
In partnership with