It's the most wonderful time of the year – at least that's what Andy Williams would say. And we don't disagree. The PNW becomes cold, rainy, and it gets dark early, but that just means more time to snuggle up, grab a book, or watch a movie with delicious snacks and a drink. It's also such a beautiful time of year with all the lights and decorations and celebrations with friends and family. If you're hosting or attending any parties this season, we've collected a list of 10 cocktails that will make your friends wonder when you had the time to attend bartending school. Whether you prefer classic or unique, or non-alcoholic, we've got your mixology covered. Let us know in the comments which one you liked best!
*Ingredients listed in bold are available at Bartell's. Stock levels may vary per store.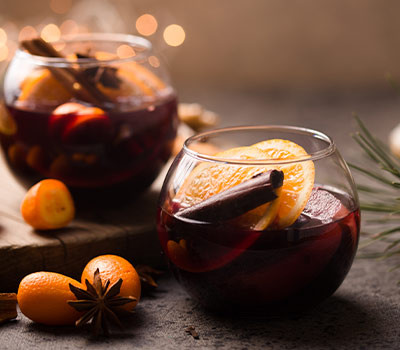 Mulled Wine
Makes 4 – 6 servings
Ingredients:
1 750 mL bottle of dry red wine, try 14 Hands Hot to Trot
1/4 cup Grand Marnier
1 orange, sliced into rounds
2 cinnamon sticks
2 star anise
2 to 4 tablespoons Anna's Honey
Add wine, brandy, orange slices, cloves, cinnamon, star anise, and 2 tablespoons sweetener to a large saucepan. Stir briefly to combine.
Cook the mulled wine on medium-high heat until it just barely reaches a simmer. Reduce heat to low, cover, and let the wine simmer for at least 15 minutes or up to 3 hours.
Using a fine mesh strainer, remove and discard the orange slices, cloves, cinnamon sticks, and star anise. Give the mulled wine a taste, and stir in extra sweetener if needed.
Serve warm in heatproof mugs.
Modified from: https://www.gimmesomeoven.com/mulled-wine-recipe/#tasty-recipes-61790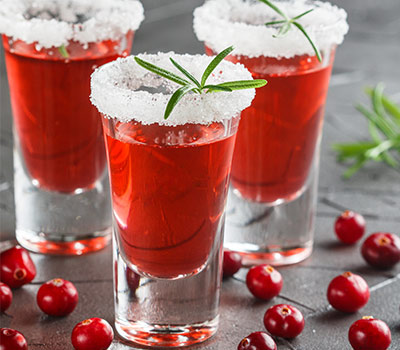 Santa's Hat
Makes 2 servings
Ingredients:
Ice
1 oz Crown Royal
1 oz amaretto liqueur
2 oz Ocean Spray Cranberry Juice
Sugar for rim
Rim shot glasses with sugar. In a cocktail shaker filled with ice, pour the whisky, amaretto, and cranberry juice. Shake well. Strain into two shot glasses.
Modified from: https://www.thespruceeats.com/red-snapper-shot-recipe-761625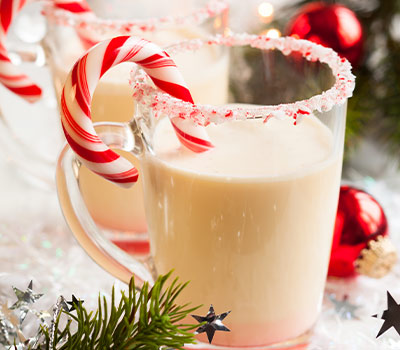 Snowball Cocktail
Makes 4 servings
Ingredients:
Finely-crushed candy canes
1 1/2 oz. white chocolate liqueur
1 oz. Kraken Rum
1/2 oz. ginger liqueur
Ice
Water
Dip the rim of the glass with water and add the finely crushed candy canes. Combine white chocolate liqueur, rum, ginger liqueur, and ice in a cocktail shaker. Shake vigorously, then strain into prepared glass.
Modified from: https://www.countryliving.com/food-drinks/a29625988/driven-snow-cocktail-recipe/
Holiday Cookie Martini
Makes 6 servings
Ingredients:
Sprinkles
Vanilla icing
1.5 oz. vanilla vodka
1.5 oz. Baileys Irish Cream
.75 oz. amaretto
1 tsp. confectioner's sugar
3 tbsp. milk or Half & Half
1 cup ice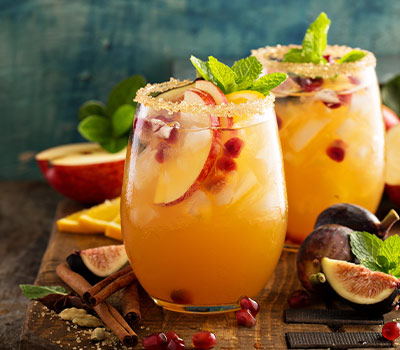 Apple Cider Sangria
Makes 6 servings
Ingredients:
2 small apples, thinly sliced
1 medium lemon, cut into wedges
1/2 cup pomegranate seeds
2 cups apple cider
1/2 cup Crown Royal Whisky
1/4 cup E&J Vs Brandy
1 1/2 cups Domaine Ste. Michelle Sparkling Wine
Cinnamon and sugar mixture for rim
Cinnamon sticks and star anise for garnish
Rim glasses with cinnamon and sugar. To a large pitcher, add apple, lemon, and pomegranate seeds. pour apple cider into the pitcher, followed by whiskey, and brandy. Refrigerate for a few hours and add the sparkling wine right before serving. Pour sangria into glasses and garnish each glass with a cinnamon stick and a star anise.
Modified from: https://www.recipegirl.com/apple-cider-sangria/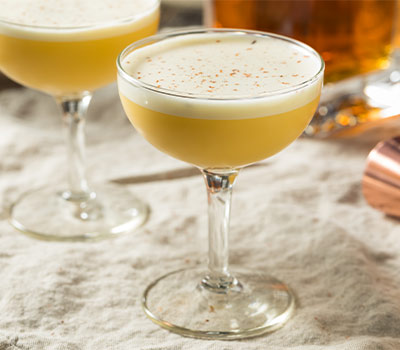 Bourbon Flip
Ingredients:
2 ounces Maker's Mark or Bulliet Bourbon
1 ounce simple syrup
1 large egg
3 to 4 ice cubes
freshly grated nutmeg for garnish
Add the bourbon, simple syrup, egg, and ice to a cocktail shaker. Shake well for 2 minutes. Strain the cocktail into a coupe or champagne saucer glass. Top with freshly grated nutmeg. Serve immediately.
Modified from: https://breadboozebacon.com/bourbon-flip/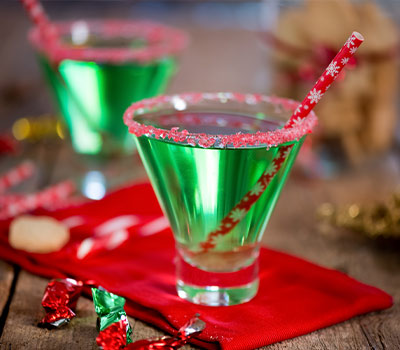 Spiked Grinch Punch
Makes 12 servings
Ingredients:
1 (0.13-oz.) packet Kool-Aid Lemon Lime mix
4 cups water
4 cups ice
3 cups 7UP
2 cups Dole Pineapple Juice
2 cups Tito's Handmade Vodka
1 cup Canada Dry Ginger Ale
Lime wedges, for rimming
Red sanding sugar, for rimming
Non-Alcoholic Beverages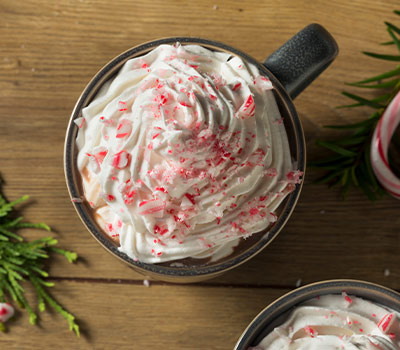 Peppermint Bark Hot Chocolate
Ingredients:
1 packet Brown & Haley's Roca Hot Chocolate Mix
Brown & Haley's Chocolate Peppermint Bark
Whipped cream topping
Chocolate syrup
Crushed candy canes
Prepare the hot chocolate according to the package instructions. While still hot, add a piece of peppermint bark and stir to dissolve. Top with whipped cream, drizzle with chocolate syrup and sprinkle with crushed candy canes.
Modified from: https://www.browneyedbaker.com/peppermint-bark-hot-chocolate/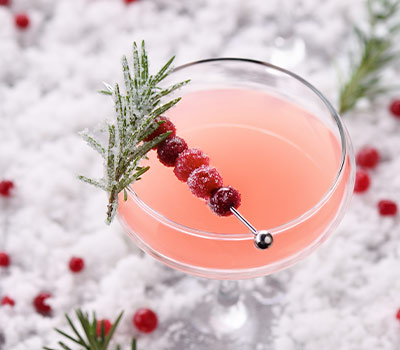 Cranberry Orange Spritz
Makes 15 servings
Ingredients:
1 liter San Pellegrino Sparkling Natural Mineral Water, chilled – for extra flavor try Bubly Grapefruit Sparkling Water
2 cups Tropicana Orange Juice
4 cups Canada Dry Ginger Ale, chilled
2 cups Ocean Spray Cranberry Juice
1-2 cups frozen cranberries
Sugar
In a large punch bowl, mix together chilled sparkling water and orange juice. Next, add in chilled ginger ale and stir. Then stir in cranberry juice cocktail and mix everything. Pour drinks in individual cups and garnish with sugar dusted frozen cranberries to serve.
Modified from: https://www.darcyandbrian.com/cranberry-orange-non-alcoholic-drink-recipe/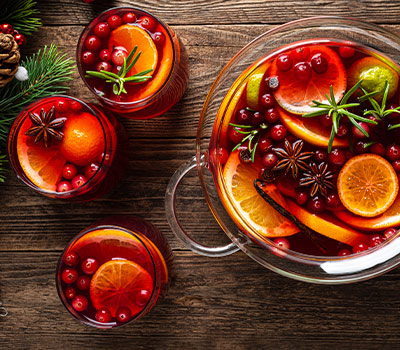 Holiday Punch with Cranberries
Makes 10 servings
Ingredients:
2 liters Ocean Spray Cranberry Juice
2 liters Canada Dry Ginger Ale
1 lb. frozen cranberries
1 orange sliced
2 limes sliced
Rosemary sprig to garnish
Combine the cranberry juice, ginger ale in a large punch bowl. Add the frozen cranberries, orange slices, lime slices and ice. Garnish with a small orange slice on the rim of the glass and a fresh rosemary.
Modified from: https://petersfoodadventures.com/christmas-punch/
For more winter cocktails, visit
here
.