The start of fall has us dreaming of crisp, cool days, changing leaves, and the smell of freshly baked bread and pies. Pumpkin spice anything and everything is around every corner, and Halloween will be here before you know it. We've compiled a list of seasonal drinks to try that'll take you from harvest season to fright season and through turkey day.
*Ingredients listed in bold are available at Bartell's. Stock levels may vary per store.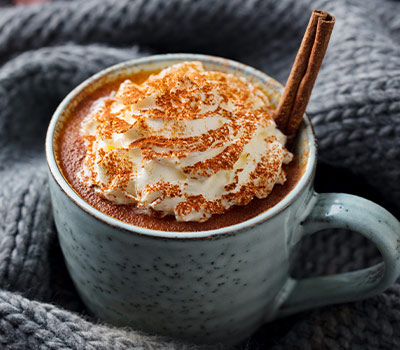 Pumpkin Spiked Latte
Makes 2
Ingredients:
2 tsp Pumpkin Pie Spice
3 tbsp sugar, divided into 2tbsp and 1tbsp
1 ½ c boiling water
2 tbsp espresso powder
5 oz RumChata
3 oz Smirnoff Vanilla Vodka
Whipped cream
Combine 1 tsp pumpkin pie spice and 1 tbsp sugar on a small plate. Wet the rim of 2 coffee mugs with a wet paper towel, then dip in sanding sugar and spice mixture. In a heatproof cup or bowl, stir the espresso powder, remaining 2 tbsp sugar, and the remaining tsp of pumpkin spice into the boiling water until dissolved. Add rumchata and vodka and stir to combine. Pour into prepared mugs. Top with whipped cream and sprinkle with the remaining sugar and spice mixture.
Modified from: https://www.delish.com/cooking/recipe-ideas/a33865346/drunken-pumpkin-latte-recipe/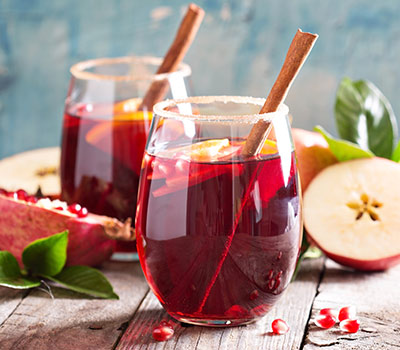 Autumn Harvest Sangria
Makes 1 pitcher
Ingredients:
1 bottle red wine – try Maryhill Winemaker's Red or
14 Hands Stampede
2 cups apple cider (not apple juice)
1/2 cup E&J Vs Brandy
1/4 cup cinnamon simple syrup*
1 apple – cored and chopped
1 green pear – cored and chopped
1/2 orange – quartered and sliced
Seeds from one pomegranate – about 1/2 cup
3 or 4 cinnamon sticks
*To make Cinnamon Simple Syrup:
1 cup water
1 cup sugar
6 cinnamon sticks
In a saucepan, combine 1 cup of water with 1 cup of sugar. Bring to a boil over high heat and cook until the sugar dissolves and the liquid just starts to thicken. Transfer the liquid to a heatproof container, add the cinnamon sticks, and chill for at least 4 hours.
For the sangria:
In a large pitcher, combine the wine, apple cider, brandy, cinnamon simple syrup, and fruits. Refrigerate at least 4 hours or overnight prior to serving.
Modified from: https://inspiredbycharm.com/autumn-harvest-fall-sangria/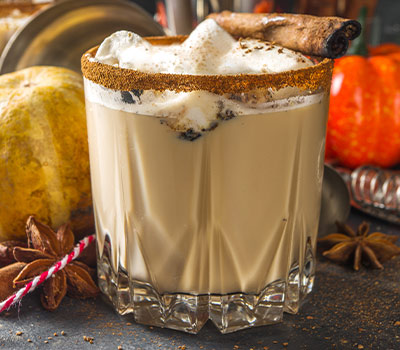 Pumpkin Spice White Russian
Makes 2
Ingredients:
3 oz Grey Goose Vodka
3 oz Pumpkin Spice Creamer
1.5 oz Kahlua
1 tsp pumpkin pie spice
1 tsp sugar
3 tbsp crushed Honey Maid Graham Crackers
Whipped Cream and pumpkin pie spice for garnish
Mix the pumpkin pie spice, sugar, and graham crackers on a shallow plate. Dip the edge of two glasses in water and then dip into the graham mixture. Press to coat. Set the two glasses aside. Pour vodka, creamer, and Kahlua into a large cocktail shaker filled with ice. Shake lightly until combined and cold. Pour into glasses and top with whipped cream and pumpkin pie spice.
Modified from: https://www.thecookierookie.com/pumpkin-spice-white-russian-cocktail/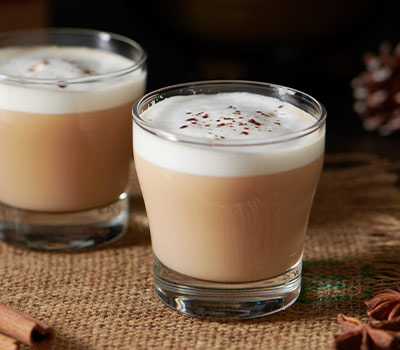 Boozy Chai Latte
Makes 4
Ingredients:
2 cups water
4 Stash Chai Spice tea bags
2 strips of orange peel
10 whole cloves
2 cinnamon sticks
10 whole black peppercorns
1/2 tsp ground nutmeg
1 tsp ground ginger
3 Tbsp C&H brown sugar, packed
2 cups milk of your choice
4 oz Sailor Jerry Spiced Rum
1 1/2 oz Cointreau or orange liqueur of your choice
Combine the water, tea bags, orange peel, spices and brown sugar in a saucepan. Bring to a rolling boil and turn off the heat. Allow the mixture to steep for 10-15 mins and then strain through a fine mesh sieve, pressing on the tea bags and discarding the solids. Add the milk and warm until simmering over low heat. Add the rum and orange liqueur and buzz with an immersion blender or blend in a blender until frothy. Garnish with a cinnamon stick if desired and serve warm.
Modified from: https://whatshouldimakefor.com/boozy-chai-latte/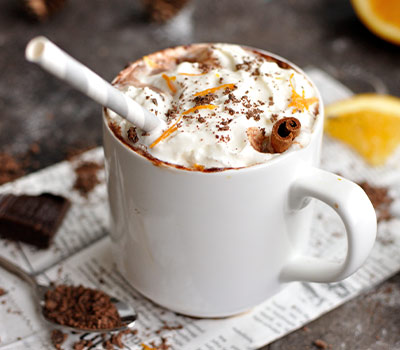 Non-Alcoholic Orange Spice Cocoa
Makes 6
Ingredients:
1 cup Confectioner's Sugar
¼ tsp ground cardamom
½ cup cocoa powder
6 cup milk
1 orange, zested
1 cup whipped cream
Ready for even more fall-themed drinks? View more at https://www.bartelldrugs.com/blog/pumpkin-libations/


Halloween Cocktails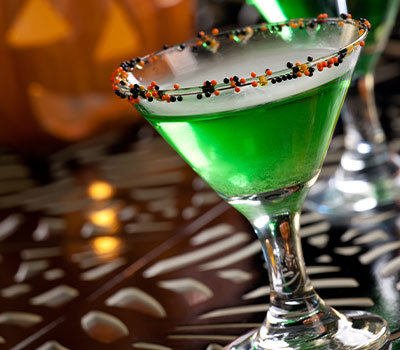 Spellbound Cocktail
Ingredients:
Halloween-themed sprinkles
2 oz Cinnamon flavored vodka
1 oz Sour apple schnapps
1 oz Ocean Spray 100% Apple Juice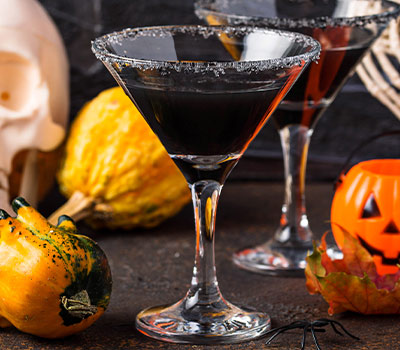 Witches Blood
Makes 1 pitcher
Ingredients:
½ cup cherry schnapps
½ cup Tito's vodka
1 cup Bulleit Whiskey
⅓ cup lemon juice
4 cups Cherry Coke
Pour the cherry schnapps, vodka, whisky and lemon juice into a pitcher. Stir well with a cup of ice. Gently pour in the cherry soda and stir carefully to combine. Serve in colored sugar-rimmed glasses with a ghoulish garnish.
Modified from: https://www.sprinklesandsprouts.com/witches-blood-halloween-cocktail/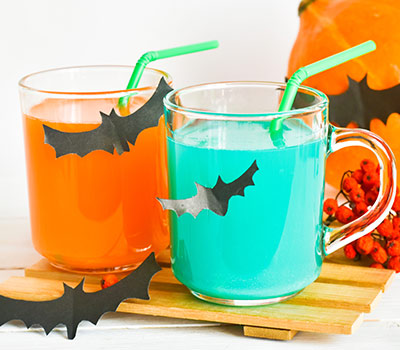 Swamp Water Surprise
Ingredients:
For the Optional "Plasma":
1 (3-oz) box flavored gelatin
1 cup water, boiling
3/4 cup Absolut Vodka
For the Cocktail:
2 oz Bacardi Gold Rum
1/4 oz orange or blue curaçao liqueur
1 oz Nantucket Nectars Orange Juice
1/2 oz lemon juice
2 tbsp gelatin "plasma," optional
In a mixing bowl, dissolve the gelatin in boiling water. Stir in the vodka and set the bowl in the freezer. Just before the gelatin sets up completely, whip it with a whisk to form lumps. Let it set for at least 5 minutes. In a cocktail shaker filled with ice, pour the rum, curaçao, and lemon and orange juices. Shake well. Strain into a chilled cocktail glass. If using, carefully spoon the plasma into the glass. (Note: Blue curacao will turn the drink into a swampy green color.)
Modified from: https://www.thespruceeats.com/swamp-water-surprise-recipe-760569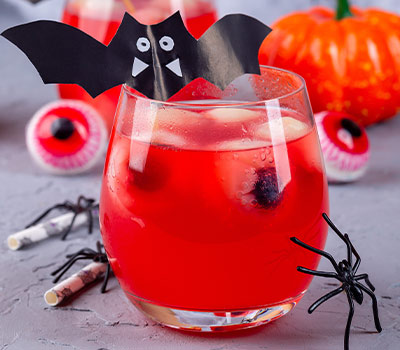 Vampire's Delight Mocktail
Ingredients:
2 parts Sprite
2 parts Ocean Spray Cranberry Juice
1 part Torani Blood Orange Syrup
Gummy eyeballs
Fill a glass half full of ice cubes. Add the liquid ingredients in order. Garnish with the edible gummy eyeballs.
Modified from: https://4sonrus.com/little-monster-halloween-mocktails/
Thanksgiving Cocktails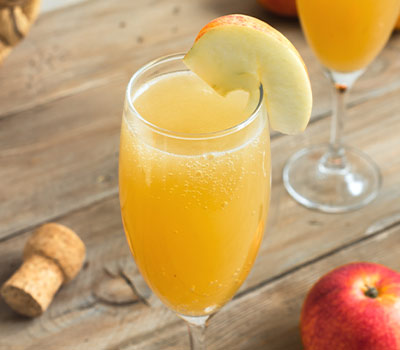 Apple Cider Mimosa
Makes 4
Ingredients:
2 tbsp sugar
1 tbsp ground cinnamon
1 cup Apple Cider
1 bottle La Marca Prosecco
On a small plate, combine sugar and cinnamon. Dip champagne flutes in water to wet the rims, then dip in cinnamon sugar mixture. Fill champagne flutes ¼ full with apple cider, then top off with champagne. Add a thinly sliced apple wedge to the rim (optional.)
Modified from: https://www.delish.com/cooking/recipe-ideas/recipes/a46963/apple-cider-mimosas-recipe/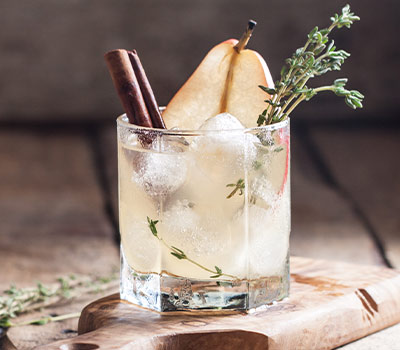 Bourbon Spiced Pear Cocktail
Ingredients:
1 1/2 oz Bulleit Bourbon
1 1/2 oz pear purée*
1/4 oz ginger liqueur
1/4 oz agave nectar
1/2 oz freshly squeezed lemon juice
1/4 tsp allspice dram
Bubly Sparkling Water, to taste
2-3 dashes aromatic bitters
Freshly cut thyme or sage sprigs for garnish
On a small plate, combine sugar and cinnamon. Dip champagne flutes in water to wet the rims, then dip in cinnamon sugar mixture. Fill champagne flutes ¼ full with apple cider, then top off with champagne. Add a thinly sliced apple wedge to the rim (optional.)
For the pear purée:
Peel, core, and coarsely chop 3 pears. Purée the chopped pears and 2 ounces of lemon juice in a blender until smooth. Strain and press the pear mixture through a fine-mesh strainer or chinois, discarding the remaining solids. This mixture yields enough to make 4-5 cocktails.
For the cocktail:
In a mixing tin or cocktail shaker, add the bourbon, pear purée, ginger liqueur, agave nectar, lemon juice, and allspice dram. Fill with ice, shake well, and strain into a cocktail glass filled with fresh ice. Add sparkling water to taste and give 2-3 shakes of bitters. Gently smack the fresh herbs to release their aromatics and place them in the finished cocktail.
Modified from: https://hollyandflora.com/2015/11/11/bourbon-spiced-pear-cocktail-fall-cocktail-favorites/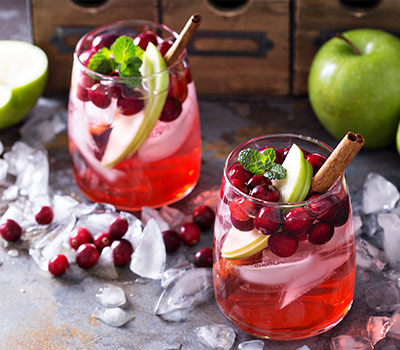 Apple Cranberry Moscow Mule
Makes 2
Ingredients:
4 ounces Grey Goose Vodka
¼ cup Ocean Spray Cranberry Juice
½ cup Martinelli's Sparkling Cider
1 can ginger beer
Fresh cranberries and sliced apples for garnish
Fill 2 glasses with ice and add equal amounts of the vodka, cranberry juice and sparkling apple juice to the glasses. Stir to combine. Fill the remaining space of the glasses with the ginger beer and stir gently to combine. Serve immediately. Garnish with cranberries and apples as desired.
Modified from: https://whatsgabycooking.com/apple-cranberry-moscow-mule/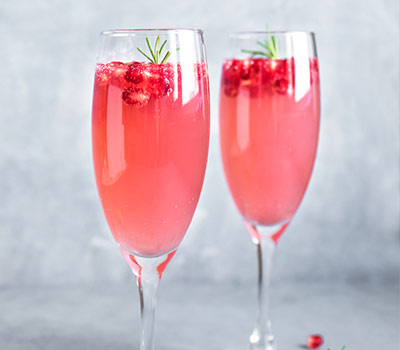 Sparkling Pomegranate Mocktail

A Bartell's original 
Ingredients:
2 parts Martinelli's Sparkling Cider
1 part Pomegranate Juice
1 splash Apple Cider
Whole cranberries or pomegranate arils, for garnish
If using pomegranate arils, drop a spoonful into a champagne flute. Pour pomegranate juice and apple cider into the flute, then top with sparkling cider. If using whole cranberries, drop a few into the glass. Note: Pomegranate arils will sink to the bottom, and whole cranberries will float – either work for a festive look!