With Memorial Day weekend approaching, grilling season is upon us! Nothing says PNW summer quite like spending time outdoors with friends, neighbors, and family with the smell of grilled something in the background. So grab a cold one, jot down (or print) some recipes, and plan that summer BBQ with your vaccinated friends and fam!
*Ingredients listed in bold are available at Bartell's! Stock levels may vary by store.
Mains:
BBQ Grilled Chicken
This one can be done as simply as with your favorite BBQ sauce, or you can try making your own signature sauce from scratch! Some of our favorite BBQ sauces from Bartell's are Sweet Baby Ray's Honey Barbecue and Primal Kitchen Classic BBQ Sauce.
For your own BBQ sauce, try:
1 cup Heinz Tomato Ketchup
1/4 cup Heinz White Vinegar
1/4 cup C&H Brown Sugar
2 tablespoons Spice Classics Paprika
1 tablespoon Napoleon Olive Oil
1 tablespoon Spice Classics Chili Powder
2 teaspoons Spice Classics Garlic Powder
1/4 to 1/2 teaspoon cayenne powder
Heat up a medium saucepan on medium-low. Add all ingredients, but just 1/4 teaspoon of cayenne powder. Allow the mixture to simmer for 5 to 8 minutes. Taste for flavor and add the remaining 1/4 teaspoon of cayenne for spicier sauce (optional). Remove from heat and allow to cool completely before using. Store covered in the refrigerator for up to a week.
Recipe from: The Spruce Eats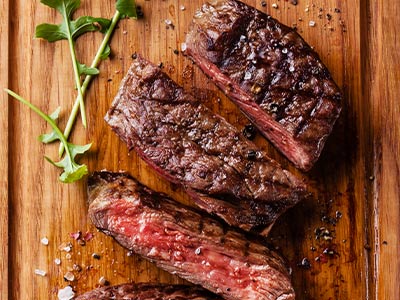 BBQ Steak
Our mouths are watering just thinking about it. Grab that Ribeye, Tenderloin, Top Sirloin, or Filet Mignon for a delicious feast. Again, you can use your favorite BBQ sauce, or try a dry rub like Rub with Love Smoky Barbecue Rub. Rubs work great with steak as well as BBQ pork ribs. Rub with Love also makes a delicious Steak Rub with flavors of garlic, chili, rosemary, and cumin.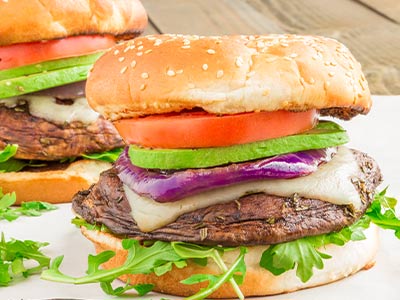 Portobello Burger
Looking for a veggie option? Gigantic portobello mushroom caps are super delicious on the grill! Brush the caps with a high heat oil. You can simply add salt and pepper to them, or you can easily add any of the BBQ rubs and sauces that you would use on meat. It gives them such a nice flavor! Top your veggie burger with all the fixings – Lettuce, tomato, red onion or grilled onions, cheese (we recommend Swiss!), avocado, and any other BBQ sauce or ketchup that you desire.
Sides: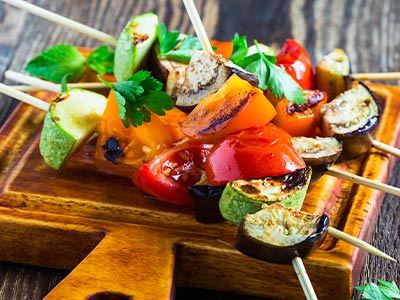 Veggie Kabobs
So many veggies are made extra tasty with that slight char only the grill can make. Veggie kabobs are healthy, colorful, and are fun to assemble. Get your kiddos to help! (Maybe they'll be more likely to eat their veggies? One can dream.) The options are endless, but for a fun rainbow-colored skewer, arrange slices in order:
Red bell pepper
Orange bell pepper
Yellow squash
Zucchini
Red onion
Whole mushroom
Brush a thin layer of high heat oil on them and sprinkle with any seasonings you like! Salt, garlic, and lemon pepper is a good place to start.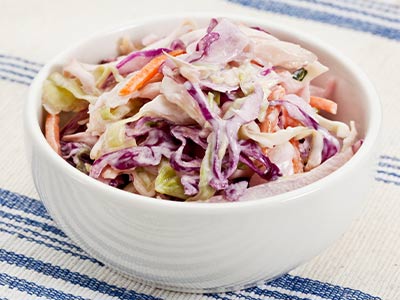 Traditional Coleslaw
Coleslaw can also be made several different ways, but here are two recipes: the first is the more traditional creamy kind, and the second one without mayo for a tangier (and healthier) kind.
½ cup Best Foods Mayonnaise
2 tablespoons C&H White cane sugar
1 ½ tablespoons lemon juice
1 tablespoon vinegar
½ teaspoon ground black pepper
¼ teaspoon salt
Whisk ingredients together until creamy and pour over packaged coleslaw mix. Or you can chop your own coleslaw from a mix of chopped cabbage and shredded carrots.
Recipe from: Allrecipes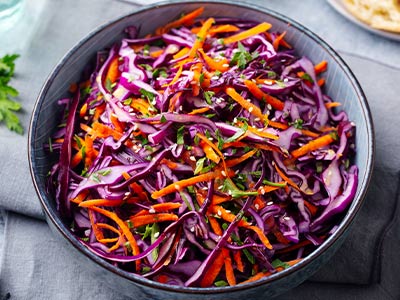 Tangy Coleslaw
1/2 cup Bragg Organic Apple Cider Vinegar
2 tablespoons Napoleon Olive Oil
1 tablespoon Anna's Honey
1 teaspoon sea salt
2 teaspoons cracked black pepper
Whisk together and pour over cabbage mix. Try it with a purple cabbage slaw for a colorful addition to your BBQ.
Recipe from: Our Salty Kitchen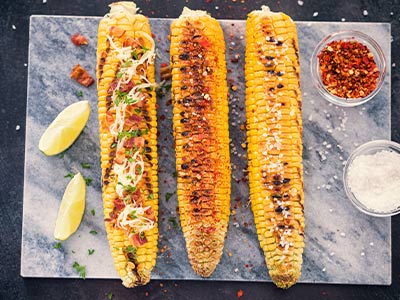 Mexican Grilled Corn
Sure, you could grill up some regular old corn, but why not try something different! Grilled Mexican corn, known as Elote, is coated with cotija, chili powder, mayo, sour cream, and lime.
8 ears corn, shucked
2 tablespoons oil
Kosher salt and freshly ground black pepper, to taste
1 cup crumbled cotija cheese, divided
½ cup Best Foods Mayonnaise
½ cup sour cream
½ cup cilantro leaves, minced, plus more for garnish
2 teaspoons lime zest
1 teaspoon ancho chili powder
On a sheet pan, toss the corn with the oil, then season with salt and pepper. In a small bowl, stir together ⅔ cup of the cotija cheese with the mayo, sour cream, cilantro, lime zest and chili powder to combine. Place the corn on the hottest part of the grill and cook, turning as needed, until cooked through and charred, 8 to 10 minutes. Remove the corn from the grill and immediately brush each cob liberally with the cheese mixture and transfer to a platter. Garnish each cob with a sprinkle of the remaining ⅓ cup of cheese and more cilantro.
Recipe modified from: Tasting Table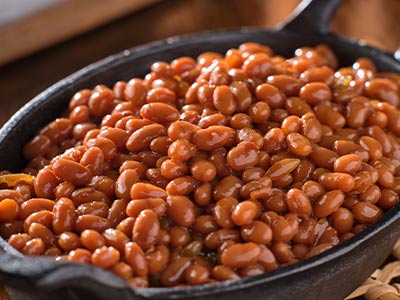 Baked Beans
Baked beans are a staple side when it's comes to BBQs. There are tons of options out there, but our favorites come in the form of Bush's Homestyle or Bush's Honey Sweet Baked Beans.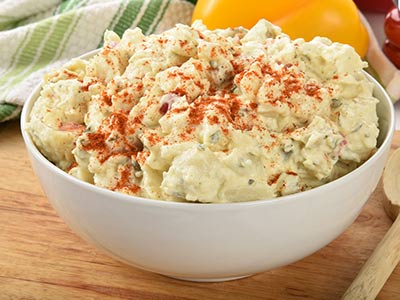 Potato Salad
It's quick and easy to buy a bucket of potato salad from the grocery store. But it's actually not that complicated to make your own. Then you can make it as creamy or un-creamy as you like and add spices to taste. Try this delicious recipe from Foodie Crush.
6 medium white potatoes or Yukon golds
about 2 1/2 to 3 pounds, skin on and quartered
3 tablespoons Heinz White Vinegar
2 celery stalks (ribs) diced
6 green onions diced
5 hardboiled eggs peeled
1 1/2 cups Best Foods Mayonnaise
1 tablespoon French's Classic Yellow Mustard
1 1/2 teaspoons celery seed
3/4 teaspoon kosher salt
3/4 teaspoon freshly ground black pepper
Spice Classics Paprika
Bring a large pot of cold water to a boil. Add potatoes and reduce the heat to a lightly rolling boil over medium heat. Cook for 20-25 minutes or until the potatoes are easily pierced with a fork. Drain and allow to cool. Peel the skins from the potatoes and cut into 1/2″ to 3/4″ square pieces. Transfer the warm potatoes to a large mixing bowl and sprinkle with the white vinegar. Toss the potatoes with the vinegar and set the potatoes aside to cool, about 15-20 minutes. Add the celery and the green onions to the potato mixture. Chop 4 of the hard-boiled eggs and add to the potato mixture. In a medium bowl, mix the mayonnaise, mustard, celery seed, and salt and pepper. Fold into the potato mixture and season with more salt and pepper to taste. Slice the last egg into thin slices and place the slices on top of the salad. Sprinkle with paprika if desired. Chill for at least 1 hour or overnight before serving.
Recipe modified from: FoodieCrush
Dessert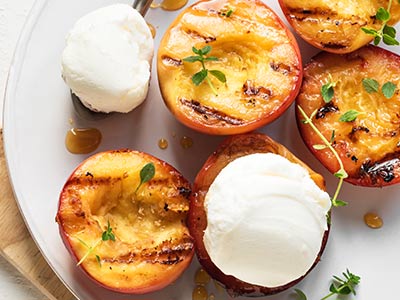 Grilled Peaches
If you've never tried a grilled peach, trust us – it might be your new favorite dessert! Mouthwatering and tender, take it to the next level with a scoop of ice cream.
Ripe peaches, halved
Oil
Spice Classics Ground Cinnamon
Anna's Honey
Edy's Vanilla Ice cream
Preheat the grill to medium-high heat. Brush the inside of the cut peaches with oil, then lay them cut side down on the grill and close the lid. Grill for 3-4 minutes until grill marks appear, then flip the peaches and cook for another 3-4 minutes until the peaches are warm all the way through and soft. Remove the peaches from the grill and sprinkle with cinnamon then drizzle with honey. Top each peach half with a scoop of ice cream and serve immediately.
Recipe from: Gimme Some Grilling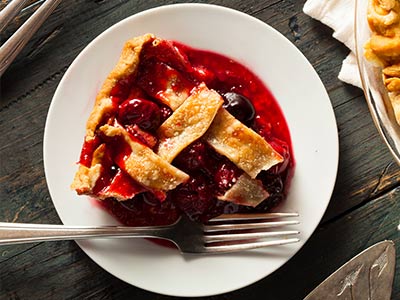 Classic Cherry Pie
It's cherry season! But rather than make you pit a ton of cherries, this recipe calls for canned cherries, thereby eliminating a large portion of your afternoon. You can eliminate even more time with a store-bought pie crust.
3 cups Gold Medal All-Purpose Flour, sifted
3/4 cup Pure Wesson Vegetable Oil
6 tablespoons milk
1/4 teaspoon salt
3 cans Oregon Specialty Fruit Red Tart Cherries
1 cup + 2 teaspoons C&H White cane sugar
1/4 cup cornstarch
2 tablespoons unsalted butter, cut into small cubes
Pie Crust:
To prepare the crust, sift the flour into a large mixing bowl. Add the salt and stir to combine. Mix the oil & milk together in a separate bowl. Add the oil & milk to the flour mixture. Use a fork to mix the ingredients together. Use your hands to form the dough into two equal balls. Place half of the dough in an oiled bowl and set aside. Place the other half of dough on a piece of floured wax paper. Place another piece of wax paper on top and use a rolling pin to roll the dough until it's approximately 1/4 inch thick. Press the dough into a 9-inch pie pan, using your fingers to press the dough into the sides of the pan. Place the bottom of the dough into the pie plate. Remove the other half of dough from the oiled bowl and place it between the two sheets of wax paper. Roll it to 1/4-inch thickness, using a rolling pin. To prepare the lattice top, slice the dough into 1/2-inch-wide strips. Cover with a damp paper towel, then set aside and prepare the filling.
Pie Filling: To make the filling, drain the cherries from the cans using a fine mesh strainer, reserving 1 cup of cherry juice. Combine the reserved cherry juice, sugar and cornstarch in a medium saucepan on the stove over medium heat. Bring to a boil over medium heat, stirring constantly until thick, about 15 minutes. Once the mixture is thick, remove it from the heat and add the drained cherries to the saucepan. Stir to combine.
Cherry Pie: Preheat the oven to 450°F. Pour the homemade cherry filling into the prepared pie crust. Top with the lattice crust by carefully weaving the strips of dough over the filling. Lay 4 of the longest strips of dough side-by-side in the middle of the pie, each about 1/2 inch apart. Weave 4 more long strips of dough in the opposite direction, up and under the other pieces of dough. Continue with shorter pieces of dough as you work your way to the outside edges of the pie until the entire pie is covered. Use a sharp knife to trim any excess dough from the edges of the pie crust. Crimp the pie crust by pressing the top edge of the pie dough into the pie plate using your fingers. Place small cubes of butter across the top of the pie and sprinkle 2 teaspoons granulated sugar evenly over the pie. Place the pie on a rack in the lower half of a preheated 450°F oven for 10 minutes. Reduce the heat on the oven to 350°F and bake for 45 minutes, or until the crust is golden brown. After removing the pie from the oven, allow it to cool for at least 1 hour (preferably 2-3 hours) so that the pie comes out clean when it's sliced into.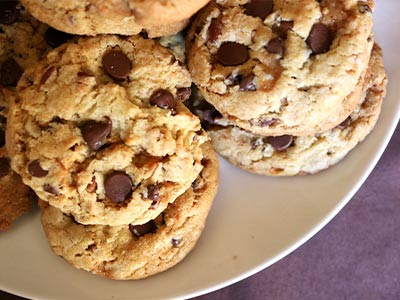 Peanut Butter Chocolate Chip Cookies
This recipe has become one of our teammate's all-time favorite cookie recipe. Soft and chocolatey, these are best when eaten on the same day they were baked. (Even better when fresh out of the oven and still warm!)
1 cup Gold Medal All-Purpose Flour
1/2 teaspoon Arm & Hammer Baking Soda
1/2 teaspoon salt
1/2 cup unsalted butter softened to room temperature
1 cup packed C&H Brown Sugar
1 cup Adam's 100% Natural Peanut Butter
1 large egg at room temperature
1 teaspoon vanilla extract
1 cup Guittard semi-sweet chocolate chips
Preheat the oven to 350°F. In a bowl, combine the flour, baking soda and salt, set aside. In the bowl of a stand mixer, beat the butter and brown sugar until well combined. Add the peanut butter and beat until blended, add in the egg and vanilla. Beat on medium speed until light and fluffy. Reduce the mixer speed to low and add the flour mixture. Mix until the dough comes together, add the chocolate chips and stir until combined. Scoop the cookie dough and place the balls of cookie dough on the baking sheet. Using your fingers, press down on the cookie dough balls to flatten them a bit. Bake for 10 minutes or until tops are set and cookies are lightly golden on the bottom. Remove the cookies from the oven and let cool on the baking sheet for 5 minutes before moving them onto a rack to cool completely.
Pro Tip: Double or triple the batch and refrigerate the remaining dough for a few hours until it is firm enough to hold shape but not hard. Roll cookie dough into balls and place them in a freezer bag. Store them in the freezer to enjoy freshly baked cookies any time! To bake from frozen, add a few minutes to their bake time (but keep an eye on them).