To celebrate Washington Wine Month, we've curated pairings of some of our favorite local wines, with take-out from a few of our favorite restaurants from across the Puget Sound.
Start your own taste of Washington with a stop at Bartell's to pick up a bottle of one of our favorites, or yours!
*Wine tasting notes are directly from their respective websites.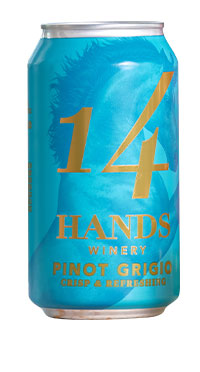 Pinot Grigio
On the lighter and drier side of the white wines, Pinot Grigio traditionally pairs well with foods like chicken, seafood, pasta with cream sauce, and salad. We paired 14 Hands Winery Pinot Grigio with local legend, Ivar's Alaska True Cod fish and chips with a side of coleslaw
If you live in Bellevue, or even just passing through, another awesome option is the Taco Pescado at La Chingona Taqueria. This crispy fish wonder is a standout on a menu full of delicious choices from this stationary food truck.

14 Hands Pinot Grigio tasting notes: Sweet and buttery with bright notes of melon, green apple, and honeysuckle.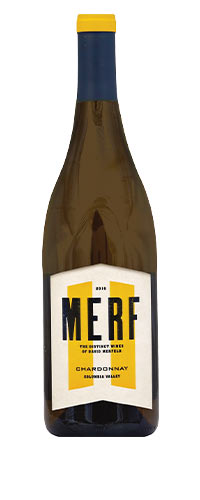 Chardonnay
Chardonnay is a medium-bodied white wine that tends to have a buttery or slight oak finish. This grape varietal is also known for pairing well with chicken,and shellfish like shrimp, mussels, and lobster.
Whether it's before the main or as a final course, MERF Chardonnay< also goes well with just about any cheese from hard cheddar to brie. Visit Beecher's Handmade Cheese, near Pike Place Market for a variety of delicious cheeses that'll guarantee a lovely start (or finish) to your tasting foray.
For delicious seafood, we love the Crab Leg Meat Fettucine from Wally's Chowder House in Des Moines. Have room for dessert? Try their seasonal fruit crisp.
Hankering for a tasty slice? Chardonnay can also be a great choice for pizza. Try any of the delicious pies from Osteria da Primo in Burien, with Waterbrook Chardonnay.
MERF Chardonnay tasting notes: Flavors of bright apple, pear, and tropical fruit with delightful floral, creamy notes and hints of oak.
Waterbrook Chardonnay tasting notes: Aromatics of toasted oak and vanilla lead to flavors of pear, yellow apple, and honeydew melon.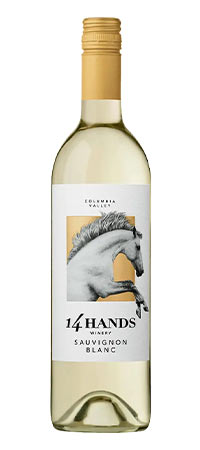 Sauvignon Blanc
With higher levels of acidity and lower sugar content, Sauvignon Blanc often has a crisp, dry palate. This makes it versatile enough to pair with chicken, more delicately flavored fish (e.g. cod, halibut, sole), pork, fresh salads, and moderately spicy foods.
Check many of those boxes with a trip to Kwan Tip Thai in Federal Way.
Start with Fresh Vietnamese Rolls, followed by an entrée of Cashew Chicken. Pair this fare with Altered Dimensions Sauvignon Blanc and you'll have a meal to remember.
Shift culinary gears, we suggest pairing 14 Hands Sauvignon Blanc with the Strawberry & Chèvre Crostini and Pulled Pork Sammie at Arthur's in West Seattle.
In the mood for Japanese? Pair either of our recommendations with takeout from Maneki. Our go-to lineup when we visit Seattle's oldest sushi restaurant (also, one of the oldest restaurants in the city, period), is the whole squid sauteed with butter, garlic, and dashi soy sauce, and a spider roll, to share, with unagi donburi for the main course!
Altered Dimensions Sauv Blanc tasting notes: Activate your senses with guava, papaya, and mango aromas followed by tropical fruit flavors.
14 Hands Sauv Blanc tasting notes: Aromas of citrus and tropical fruits. Bright flavors of gooseberry, grapefruit, and guava lead to a crisp, juicy finish.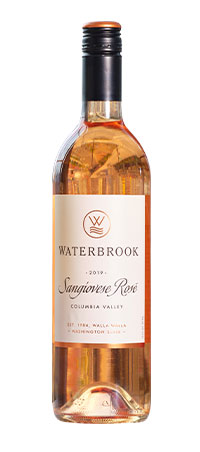 Rosé
Rosé tends to be a bright, crisp wine that is fruit-forward. Generally, Rose' pairs well with Chicken, pork, or boldly seasoned seafood.
However, you should note that pairings for rose' can vary depending on key characteristics e.g. bold vs. light or sparkling vs. still, and variety of grape.
Our restaurant picks are specifically geared towards our current Rose' fave, Waterbrook Sangiovese Rosé.
Craving carribean? Indulge yourself in the Desi Sandwich and West Indies Chicken Plate from Bongo's near Green Lake.
Looking for Lebanese? Mediterranean Kitchen is worth the trip to either of its Bellevue Way or Kirkland locations.
We are happy with several orders of the "Farmer's Dish" which, on their menu is described as "Charbroiled marinated chicken wings, served with special garlic sauce." We'd add complete and pure deliciousness. If it's your first visit, though, it's worth your while to try their mezza tray or any of their shawarma selections. Chicken, and lamb pair best, but beef is also delish!
Waterbrook Sangiovese Rosé tasting notes: Light and airy with aromas of sour cherry and herbs.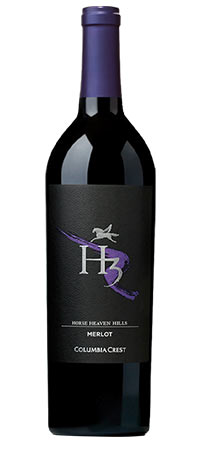 Merlot
This full-bodied, drier-side red, like a rose', can vary distinctly from vintner to vintner. Generally, Merlot is a fine partner to pork dishes, cheese boards, and even hamburgers.
With that in mind, our first suggested pair is any of the signature sirloin burgers from the Blackbird Café in Shoreline. Pair their incredible burger with Canoe Ridge Merlot. Save room to close out your experience with their indulgent Chocolate Lava Cake.
Columbia Crest H3 Merlot is another of our can't-miss standards. For this bold wine, we suggest picking up the consistently succulent Kalua Pork plate from Kauai Family Restaurant in Georgetown.
In the mood for Indian? Head north to Everett, a range of truly tasty meat and vegetarian options at Truly Tasty Curry and Pizza
The straightforward options are great, but for us, it's the pizza that shines. We've tried most of their pie menu, but it's the Barbeque Paneer, Butter Chicken, and Goat Tikka Masala pizzas that keep us coming back for more. And more and more. Pair them with a Canoe Ridge Merlot, and you have the perfect recipe for an easy evening with friends.
Canoe Ridge Merlot tasting notes: Gorgeous dark berry aromas mix with flavors of currant, cherry and candied violet hint on the long, silky finish.
Columbia Crest H3 Merlot tasting notes: Aromas of spice, plum, and blackberry with the perfect balance of earth, cocoa, and ripe black cherry notes on the palate.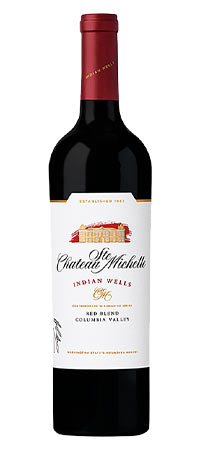 Red Blend
A red blend is exactly that – a blend. They can vary widely with their percentages of red varietals, creating a huge range of flavors and tannins. For this reason, red blends can be an excellent option for any number of foods depending on their flavor profile. And we think a classic pasta with red sauce is one of those great pairings. Opt for the Bucatini Amatriciana or Gnocchi e Zazzicchia from La Rustica in West Seattle paired with a glass of Chateau Ste. Michelle Indian Wells Red Blend. If you're truly looking for a Taste of Washington experience with an appetizer and dessert, we recommend the Antipasto Misto and honestly – any of their desserts.
If you're willing to try something exotic, go for the Tangine of Lamb M'Rouzia from Marrakesh in Belltown. Already a wonderful tasting experience, their menu items include your main plus traditional lentil soup, salads Marrakesh, b'stilla royale, and baklava. This meal is paired beautifully with the Intrinsic Red Blend.

Chateau Ste. Michelle Indian Wells tasting notes: A robust palate of boysenberry and biscotti.

Intrinsic Red Blend tasting notes: Refined notes of raspberry, white tea leaves, a hint of fresh mint, and lavender. The flavors are layered with milk chocolate fig reduction, dark plum, and licorice root, and the texture is angular, yet sophisticated, with chocolate ganache details in the finish.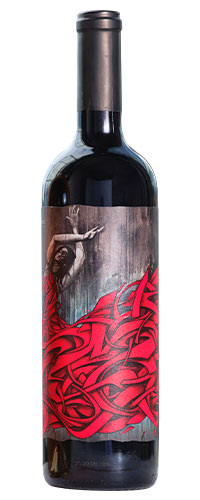 Cabernet Sauvignon
With strong tannins and full flavor, cabernet sauvignon traditionally pairs well with red meat, lamb, and earthy mushrooms.
First up, we're pairing the Altered Dimensions Cabernet Sauvignon with the sharable, but meal-sized nachos + carne asada at family-owned Cocina Cielo in Bellevue. If you are down for multiple courses, add Guacamole or Champinones a la Diabla (spicy mushrooms) to the mix, rounded out by their amazing Tres Leches Cake for dessert.
Pick up a bottle of Intrinsic Cabernet Sauvignon and bring home the Artisan Cheese Board from North Bend's Wildflower Bistro as an appetizer and the Prime Rib Dip sandwich for your entrée. The Cab Sauv divinely compliments the rich beef and grilled onions.
Altered Dimensions Cab Sauv tasting notes: Aromas of dark and red fruits like marionberry and cherry draw you in and then give way to eucalyptus and herbal notes.
Intrinsic Cab Sauv tasting notes: Aromas of cherry and leather with flavors of blueberry jam, pomegranate, and chocolate.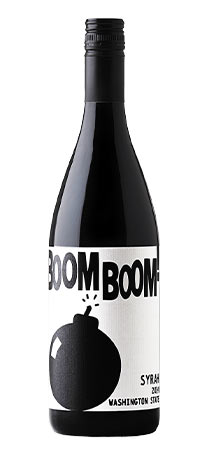 Syrah
Syrah tends to be a full-bodied red wine with hints of dark berries and pepper. Red meat, BBQ, duck, hard cheeses, and grilled vegetables all make a great pairing with Syrahs.
One of our favorite Syrahs in store is the Charles Smith Boom Boom! Syrah. Grab a bottle from Bartell's pickup takeout from Briley's BBQ in Lake Forest Park. We recommend the Baby Back Ribs, Coleslaw, and Mac n' Cheese, finished off with some amazing Beignets for dessert.
Charles Smith Boom Boom! Syrah tasting notes: This spicy Syrah has a strong sense of place…Washington State. Explosive aromas. Mouth-filling and rich—total satisfaction guaranteed.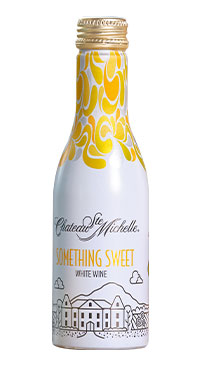 Bonus pick:
Chateau Ste Michelle Something Sweet White Wine!
This sweet white wine blend has flavors of juicy peaches and melon and comes in a pair of 250 mL adorable aluminum bottles! Pair this with spicy BBQ or fresh, citrusy salads – or sip on the side with some fresh summer strawberries for a special dessert!
We like it as a counterpoint to the classic offerings at
Daewon BBQ in Lakewood. Perhaps best known for their all-you-can-eat bbq, they also have a variety of take-out options that that have the spice to pair it up nice.