Spring is nearly here! And with spring comes longer days, blooming flowers, gardening season, and more sunshine! (Hey, we can dream, can't we?) Here are some of our favorite floral, fruity, and herbal cocktails to welcome the coming season as well as some bonus St. Patrick's Day and Easter-themed drinks!
*Ingredients listed in bold are available at Bartell's! Stock levels may vary by store.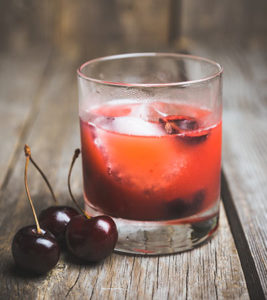 Hibiscus Cherry Spritz
Ingredients: (Makes 4)
3/4 cup fresh cherries
1 tablespoon dried hibiscus flowers
1-2 tablespoons Anna's honey
Juice of 1 lemon
1 cup pineapple juice, or try Langers 100% Pure Juice in Apple/Orange/Pineapple for a different flavor
1/2 cup Grey Goose Vodka
San Pellegrino Sparkling Water
Add the cherries to a medium size pot. Use a muddler or a fork to mash the cherries up until they are almost pulp like. Add 1 cup of water and bring to a boil over high heat. Remove from the heat, add the hibiscus flowers. Cover and let steep for 10 minutes. Strain into a pitcher, pressing out any juice from the cherries with a fork, discard the hibiscus flowers and cherries. Add the honey, lemon juice, pineapple or apple juice, and vodka. Chill until ready to serve. To serve, pour over ice and top with sparkling water.
*Modified from https://www.halfbakedharvest.com/hibiscus-cherry-vodka-spritz/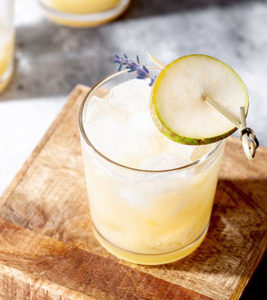 Pear Lavender Lemonade
Ingredients:
1 pear, juiced
2 ounces Absolut Vodka
2 ounces lemon juice
pinch of salt
1 tablespoon lavender simple syrup
1 cup sugar
1 cup water
10-12 stalks fresh lavender or about 1/4 cup dried (more for optional garnish)
Make lavender syrup by boiling 1 cup sugar, 1 cup water, and lavender in a pot. Turn to low and simmer for 10 mins. Let cool and strain out lavender. Juice pear and strain any pulp. Combine all remaining ingredients into a shaker and shake. Strain into a tall glass with ice. Add an extra lavender stalk for garnish if you like.
*Modified from https://sugarandcloth.com/vodka-pear-lavender-lemonade-recipe/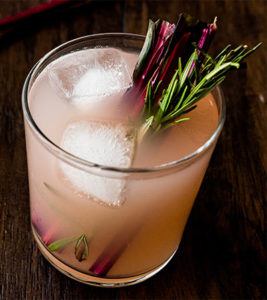 Rhubarb Rosemary Daquiri
Ingredients:
1.5 ounces Bacardi White Rum
½ tablespoon lemon juice
1 tablespoon rosemary syrup
1 cup water
3 tbsp rosemary
1 cup sugar
1.5 tablespoons rhubarb juice
¼ lb fresh rhubarb
1 cup water
Garnish: lemon wheel, sprig rosemary
For Rhubarb Juice:
You can simply juice the rhubarb if you have a juicer. Otherwise, cut rhubarb into 1 inch chunks. Place the cut rhubarb into a pot and cover with water. Bring to a boil over high heat, then cover and reduce the heat. Allow to simmer for 15 minutes. Strain using a fine mesh strainer and press the rhubarb with the back of a spoon to get all of the juice. Allow to cool for about 4 hours in the refrigerator. If the rhubarb juice separates into a thick, yellowish layer and a pink juice, strain it again until you have only the juice. Use cheesecloth if necessary.
For Rosemary Syrup:
Bring rosemary and water to a boil. Reduce heat and stir in sugar. Simmer for 15 min and take off heat. The mixture will reduce by about half. Allow to cool and strain rosemary.
For the Cocktail:
Pour the ingredients into a cocktail shaker filled with ice and shake well. Strain into a chilled cocktail glass. Garnish with a lemon wheel, sprig of rosemary, or both.
*Modified from https://www.thespruceeats.com/rhubarb-rosemary-daiquiri-recipe-760480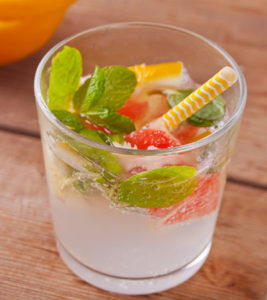 Grapefruit Mojito
Ingredients:
1-3 tablespoons sugar, to taste
20 fresh mint leaves
2-3 lime wedges or fresh lime juice
2 ounces Bacardi White Rum
2 ounces Ocean Spray Ruby Red Grapefruit Juice
4 ounces La Croix Sparkling Grapefruit
Garnish (optional): Grapefruit slices and extra mint sprigs
Add fresh mint, sugar, and lime to a glass and muddle until sugar is dissolved. Top each glass with ice. Pour in rum and grapefruit juice. Stir. Top off each glass with sparkling water and garnish with slices of grapefruit and mint for garish, if desired.
*Modified from https://bestfriendsforfrosting.com/grapefruit-mojito-recipe/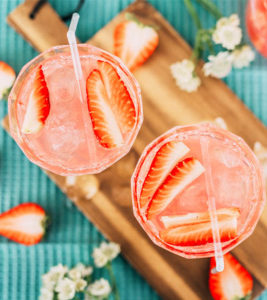 Strawberry Chamomile Paloma
Ingredients:
2-4 tablespoons Chamomile honey syrup, to taste
3/4 water
1/3 cup Anna's honey
1-2 Bigelow Chamomile tea bags
3 ounces Ocean Spray Ruby Red Grapefruit Juice
2 ounces El Jimador Tequila
4 fresh strawberries, sliced
Bubly Sparkling Water – try grapefruit, strawberry, or lime!
For Chamomile syrup:
Combine water and honey in a small saucepan and bring to a low boil, simmer 1 minute and remove from the heat. Add the tea bag, cover and steep for 5-10 minutes. Remove the tea bag and allow the syrup to cool completely. Store in the fridge.
For the Cocktail:
Add the grapefruit juice, chamomile syrup, tequila and strawberries to a glass. Muddle until the strawberries are lightly smashed. Add a handful of ice and then add sparkling water to top off. Give the drink a gentle stir. Taste and add more chamomile syrup if needed. Garnish with fresh chamomile flowers and strawberries!
*Modified from https://www.halfbakedharvest.com/strawberry-chamomile-paloma/?crlt.pid=camp.z7EgSKpdqI5y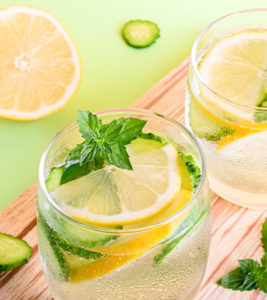 Sparkling Spring Cocktail
Ingredients:
2 slices cucumber
1 tablespoon lemon juice
1 tablespoon simple syrup
1.5 ounce Pear Vodka (Grey Goose or Absolut)
1 tablespoon St Germain Elderflower Liqueur
3 ounces Nantucket Nectars Lemonade
Garnish: mint leaves, cucumber slice, and lemon zest
In a cocktail shaker, muddle the cucumber slices with the lemon juice and simple syrup to release all the cucumber's juice. Fill the shaker with ice and add the remaining ingredients. Shake vigorously and double strain into a highball glass over fresh ice. Top with lemonade. Garnish with mint, cucumber slices, and lemon zest.
*Modified from https://www.thespruceeats.com/la-poire-sparkling-shamrock-761173
For St. Patrick's Day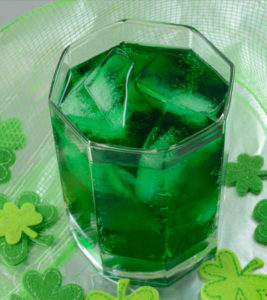 Shamrock Sour
Ingredients:
2 tablespoons lime juice
½ tablespoon lemon juice
¼ cup simple syrup
2 ounces Jameson Irish Whiskey
1 tiny drop of green food coloring
Garnish: lime wedges
Combine ingredients into a shaker and shake well. Strain into a glass with ice. Garnish with a lime wedge and any number of fun St Patrick's Day themed accessories!
*Modified from https://pizzazzerie.com/holidays/st-patricks-day-shamrock-sour-cocktail/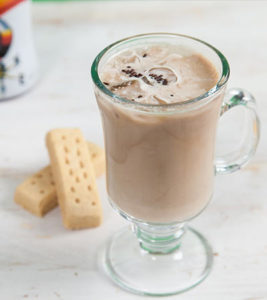 Cold Brew Irish Coffee
Ingredients:
2 ounces Rise Cold Brew Mocha Latte
2 ounces Guinness
1.5 ounces The Dubliner Irish Whiskey
1/2 oz. heavy cream
Chocolate sprinkles (optional)
Pour cold brew, Guinness, and Whiskey in a glass and stir. Top off glass with ice, leaving a little bit of room for the cream. Pour heavy cream slowly into the glass. Top with chocolate sprinkles (optional).
*Modified from https://www.bonappetit.com/recipe/dublin-iced-coffee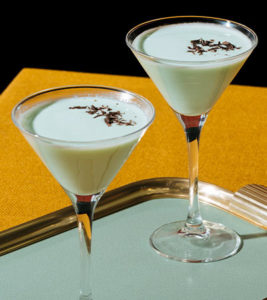 Grasshopper Martini
Ingredients:
½ ounce Crème de Menthe
2 ounces Godiva White Chocolate Liqueur
1 ounce Tito's Vodka
Garnish: whipped cream, chocolate shavings or sprinkles
Combine crème de menthe, white chocolate liqueur, and vodka in a shaker with ice. Shake and strain into a martini glass. Top with whipped cream and sprinkle with chocolate shavings.
*Modified from https://www.delish.com/cooking/recipe-ideas/recipes/a58293/drunk-grasshoppers-recipe/
For Easter Brunch
These drinks are delicious any time of the year, but if you're looking for something extra to add to your Easter meal, give these a try!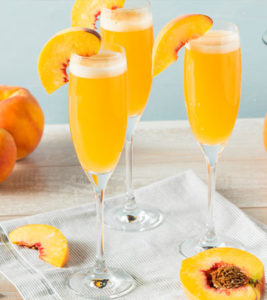 Peach Bellini
Ingredients: (Makes 2)
1 cup frozen peaches
¼ cup Peach Schnapps
1 ½ tablespoons sugar
1 tablespoon warm water
1 cup ice cubes
1 cup La Marca Prosecco
Melt the sugar in the warm water. Add the peaches, schnapps, sugar water, and the ice cubes in a blender. Blend until smooth. Divide the mixture among two champagne flutes. Top off each glass with champagne. Stir gently to combine.
*Modified from https://eat-drink-love.com/peach-bellinis/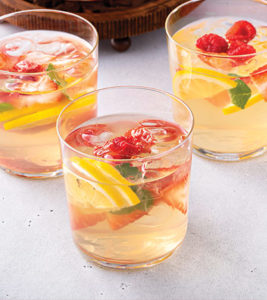 Easter Brunch Punch
Ingredients: (Makes 4-6 servings)
½ liter Sprite (1/4 bottle)
1 cup Nantucket Nectars Apple Orange Pineapple Juice
½ cup Skyy Vodka
¼ bottle La Marca Prosecco
½ cup strawberries, sliced
½ cup raspberries
¼ cup fresh mint leaves, plus more for garnish
In a large bowl or pitcher, add ice, Sprite, juice, vodka, prosecco, strawberries, raspberries and mint leaves and stir lightly to combine. Ladle or pour into glasses and add fresh strawberry and mint for garnish.
*Modified from https://www.delish.com/cooking/recipe-ideas/recipes/a52422/brunch-punch-recipe/
Which one will you try first?