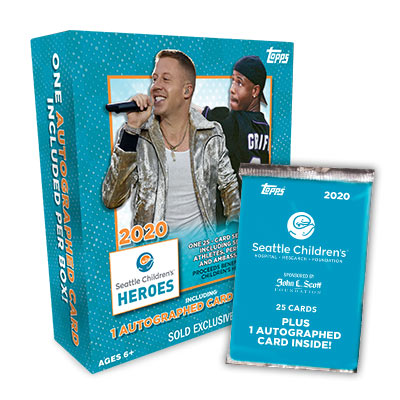 We're thrilled to share with you all another amazing partnership with Seattle Children's Hospital (plus local celebrities) this holiday season! While supplies last, stop by your nearest neighborhood Bartell's and get your hands on a pack of our Seattle Heroes Topps Trading Cards! Each pack contains one autographed card from a Seattle athlete, musician or famous ambassador.
What celebrities participated in the program? You'll recognize names like Russell Wilson, Macklemore, Alysha Clark, Cliff Avril, Dan Wilson, Edgar Martinez, Detlef Schrempf, Spencer Hawes and more!
While each of us get to enjoy the thrill of our autographed Topps card, we also can spread some holiday cheer to those going through extra challenging times. Proceeds from the sales of these trading cards go right to support Seattle Children's Hospital.
These cards are the perfect stocking stuffer this holiday season! Make sure get your pack early, as supplies may not last all the way until December 25th. We're limiting 4 packs of cards per customer, and each pack retails for $25.