With 2022 rushing towards us, we wanted to share some of our favorite mocktails and cocktails to enjoy responsibly while celebrating the turning of the page.
Cheers to you and yours! The Bartell Drugs team hopes 2022 brings you health, happiness, and prosperity.
*Ingredients listed in bold are available at Bartell's. Stock levels may vary per store.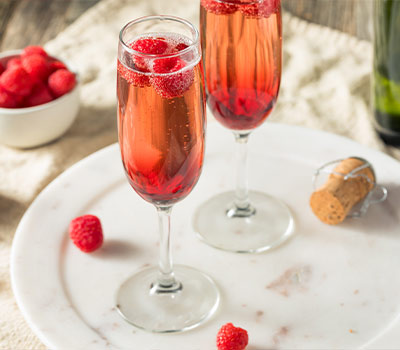 Kir Royale
Makes 4 servings
Ingredients:
1 tablespoon (0.5 oz.) Crème de Cassis, Crème de Framboise or Chambord
1 750 ml bottle chilled Domaine Ste. Michelle Sparkling Wine
1/4 cup fresh blackberries or raspberries, optional
Add Crème de Cassis, Crème de Framboise or Chambord to each flute. Add 2 to 4 blackberries or raspberries, based on the size of the berries and flutes. Fill each flute with Domaine Ste. Michelle. Serve immediately.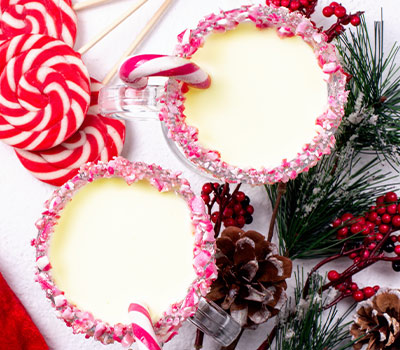 Caribbean Blizzard
Makes 1 serving
Ingredients:
1.5 oz. Kraken Rum
0.75 oz. Ginger Liqueur
1.5 oz. White Chocolate Liquor
0.5 oz. Cream of Coconut
Crushed candy canes
Rim the glass with crushed candy canes.
In a shaker, combine all ingredients and shake well. Pour over ice into a glass. Garnish with a candy cane.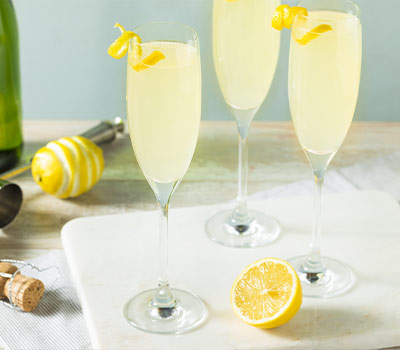 French 75
Ingredients:
1.5 oz. Tanqueray London Dry Gin
1.0 oz. freshly-squeezed lemon juice
.75 oz. simple syrup
2.0 oz. chilled Domaine Ste. Michelle Sparkling Wine
Lemon twist
Combine the gin, lemon juice, and simple syrup together in a cocktail shaker with a few pieces of ice. Cover with a lid and vigorously shake for a few seconds to combine. Strain the mixture into a champagne flute and top with champagne. Serve immediately, garnished with a lemon twist if desired.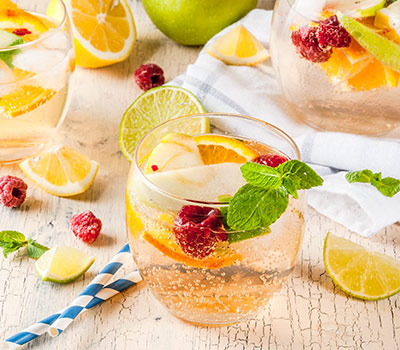 Cava White Sangria
Makes 8 servings
Ingredients:
1 large Gala or Honeycrisp apple, thinly sliced.
.75 cup of diced pineapple
2 oranges, seeded and thinly sliced
1+ tablespoons of superfine sugar
1.0 cup of frozen red grapes
0.5 cup E&J VS Brandy
0.5 cup Cointreau L'Unique
.25 cup Dole Pineapple Juice
0.5 cup Langer's Apple, Peach, Mango Juice
4 small fresh mint sprigs
(Optional) Simple sugar
2 750-ml bottles chilled cava, La Marca Prosecco or Domaine Ste. Michelle Sparkling White Wine
Combine sliced apples, sliced oranges, and diced pineapple in a punch bowl. Sprinkle the fruit with a tablespoon of sugar and let it sit, covered for at least 10 minutes.
Add the brandy, Cointreau, juices, and mint to the fruit and lightly muddle the mint and fruit.
Chill the mixture for at least 1 hour.
Before serving, add the chilled sparkling wine and frozen grapes. Stir lightly to combine. Adjust sweetness with additional sugar or simple syrup.
Modified from: https://spanishsabores.com/cava-sangria-recipe/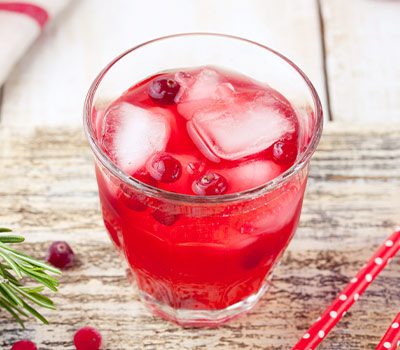 Cranberry Ginger Ale Mocktail
Makes 12 servings
Ingredients:
64 ounces Ocean Spray Cranberry Juice Cocktail
1 liter Canada Dry Ginger Ale
3 limes (sliced)
2 cups fresh cranberries
In a large pitcher, combine the cranberry juice with the ginger ale. Add in fresh limes and cranberries. Serve cold.
Modified from: https://www.yummly.com/recipe/Cranberry-Ginger-Ale-Punch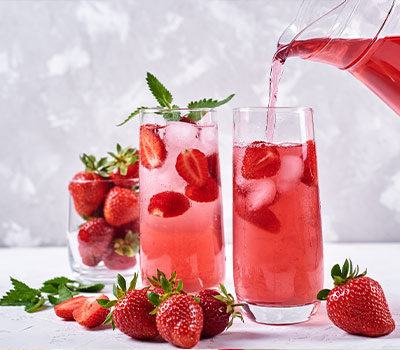 Sparkling Strawberry Lemonade
Makes 1 large pitcher
Ingredients:
1.0 cup water
0.5 cup granulated sugar
1.0 cup freshly squeezed lemon juice
2.0 cups strawberries, stems removed
4.0 cups chilled Perrier Sparkling Water
In a medium saucepan, bring 1 cup of water to a boil. Add sugar and stir until dissolved. Stir in lemon juice and remove from heat. Let mixture cool completely.
Blend the strawberries until smooth. Remove and strain through a fine-mesh sieve if desired.
Whisk strawberry puree and lemon/sugar mixture in a serving pitcher and refrigerate until completely cool.
Pour Perrier into the serving pitcher. Slice the remaining strawberries. Pour over ice, garnish with sliced strawberries and serve!
For more holiday cocktails, visit
here
.