Beaches (rocky or sandy), foothills, grasslands, mountains, parks, rainforests, rivers, shorelines, streams, vistas, waterfalls, and more!
Washington State has more natural beauty, and unique towns and communities than you can shake a stick at!*
*When, hiking, and in general, please don't break branches from nearby trees to use for your shaking-a-stick-as-point-of-emphasis purposes.
Whether it's an overnight, an all-week, or a day trip, here are some of our favorite Washington state road-trip destinations.
Destination #1:
Experience Westport!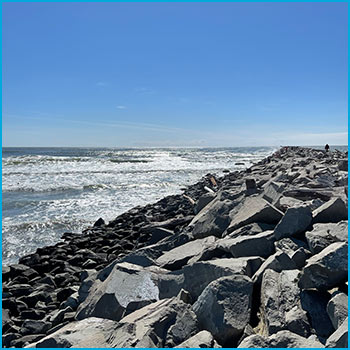 Located at the mouth of Grays Harbor, about 130 miles southwest of Seattle, along the Washington coast, Westport is one of our favorite seaside stops.
Shopping, fishing, boating, beaches, and eats all at an easy-breezy pace.
Scenic seaside stroll: Westport Lighthouse Trail, 4.5 mi
Places to Explore: Walk the marina area, and skip the supermarket by taking advantage of the fresh catch experience
Memorable Meals: Break your fast at the Blue Buoyrestaurant (Psssst! Get the Dungeness crab omelet). Then, once you are done touring the town, take your boarding party for a bite and a beer at Blackbeard's Brewing Company
Bartell's road-snack regulars:  Northwest Delights Trail Mix and Tim's Cascade Snacks Potato Chips – great for on the road!
Destination #2:
You'll Dig Gold Bar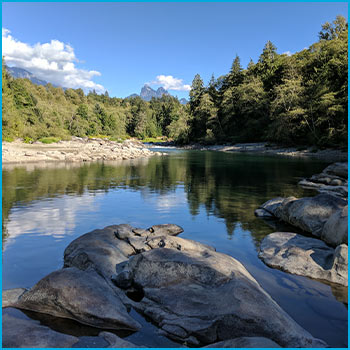 Feeling especially outdoorsy? Make Gold Bar your basecamp for trails with amazing scenery and wet & wild fun! If you haven't been, it's an easy trip on Highway 2, due east from Monroe and Sultan.
Peaceful hikes to fall in love with: Lake Serene (8.2 mi) + Bridal Veil Falls (4.0 mi)
Aqua Adventure: Take an exhilarating rafting ride on the Skykomish River! Several companies in nearby towns like, Index and Gold Bar, operate regular excursions.
Easy Eats: Getting an early start? Grab your morning cup o' joe, a muffin, and a Bigfoot sighting at Espresso Chalet. There's no better way to start your day than with a photo op with the 14-foot tall Bigfoot statue! On the way out, refuel and wind down with a generous calzone at Rico's Pizza in Gold Bar.
Bartell's trail-snack picks: Pack local favorites Zing Bars and Erin Baker's Wholesome Baked Goods cookies for easy on-the-trail energy. 
Destination #3:
Vancouver (WA of Course!)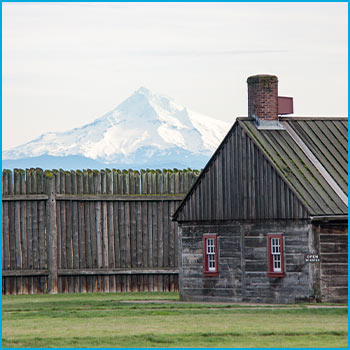 The first, and best, Vancouver is worth the drive!
Incorporated nearly 30 years before its cosmopolitan copycat to the north, Vancouver is packed with history and has a full calendar of fun summer events! Similar to the Puget Sound area, it's also near a long list of trails and amazing outdoor activities.
Take a hike! Make a day trip during your road trip, or build time into your route to visit Beacon Rock State Park in nearby Skamania. Although it is a delightful town, despite the name, it doesn't have an upbeat horn section bopping out the town soundtrack on every corner.
Urban Exploration: Walk the waterfront, traverse some trails and then immerse yourself in early PNW history at Fort Vancouver.
Mmmm: Get one of the best breakfasts in town at Dulin's Cafe. Save room for lunch on outstanding Chili at Slow Fox Chili Parlor (chili in the summer? YES chili in the summer. Trust us!) Then recap the day's adventure and put Georgia on your mind at DediKo.
Snack Essentials: For the drive down, grab some Moon Cheese for munching and Talking Rain to quench your thirst AND keep the snacking celestially themed!
Destination #4:
Your Whidbey Island Fantasy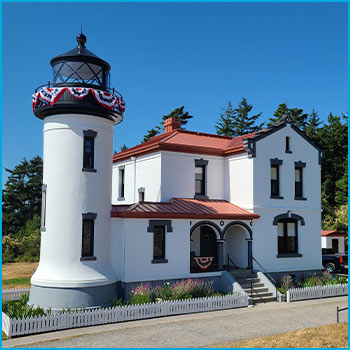 So many state parks to explore!
Take one of the ferry lines or hit the deception pass bridge to reach this beautiful and relaxing destination. Once you get there, adjust your watch to Island Time and take it one moment at a time.
You can't hide these awesome options: Hike one of many trail options in Deception Pass State Park, which lies just across the bridge of the same name. In the mood for some stunning vistas? Head to Ebey's Landing for gorgeous views.
Sites to see: Blur the line between sightseeing and happy hour with a visit to Whidbey Island Distillery and taste their delicious Loganberry liqueur. Do you go ape for grapes? Stop by the Spoiled Dog Winery for an outdoor tasting flight.
Eat: Start your day with a hearty breakfast at The Braeburn. When you burn off the gravy, grab lunch to go at either the Greenbank Store or Rocket Taco. Then elevate the end of your day with an amazing dinner at The Oystercatcher.
Bartell's picks for the road: Pack some SeaBear Smokehouse smoked salmon and La Panzanella Artisanal Foods Co. crackers for a fancy ferry snack!  
Destination #5:
The aptly named Grand Coulee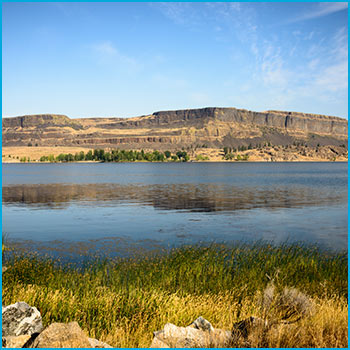 Destination #6:
Your pics of Lake Quinault = jealous friends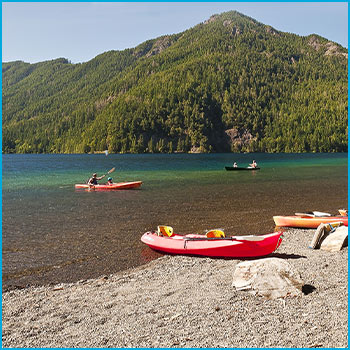 Destination #7:
Yakima Valley > Napa Valley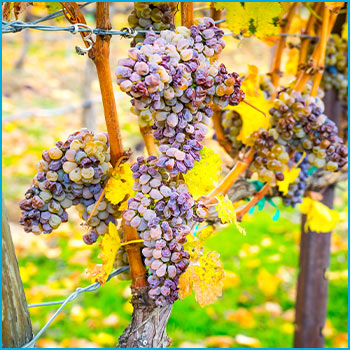 What to do: August is Washington Wine Month, so head to the Yakima Valley and explore Washington's gorgeous wine country. While there, you might as well taste the wines at some of the best wines made in our beloved state. If sparkling wines are your thing, make a reservation at Treveri Cellars. If you want a little bit of everything, check out Freehand Cellars. Want to go winery hopping? Freehand has created a wonderful winery and brewery itinerary in support of fellow, local businesses.
Tired of touring? Break things up with a lovely 6-mile hike through Cowiche Canyon.
Eat: And don't forget dining! Start your day right at Waffles Caffé, and round out your day by indulging in a scrumptious dinner at Zesta Cucina.
Bartell's picks for the road: Bring along some Chukar Cherries! If you need to restock, visit their home base, just 45 mins down the road in Prosser!
Destination #8:
Long Beach: Kite City, USA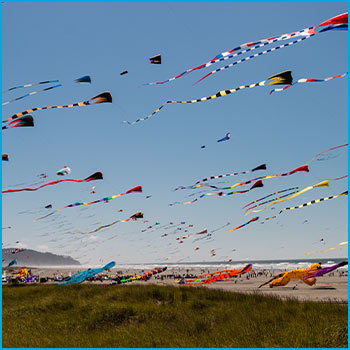 If you've ever been told to "go fly a kite", you can finally take the hint AND have a great time in Long Beach!
What to do: Kick things off by wandering along the boardwalk, followed by an amazing stroll along the beach. Also, the paved and easy-to-navigate Discovery Trail offers 8.5 miles of delightful scenery.
Sites to see: Kite flying is a signature part of Long Beach culture, so it won't take long to see some soaring in the sky, but if you want to binge on the history of kite flying from around the world, definitely take in the World Kite Museum. PLEASE NOTE: The Washington State International Kite Festival runs from August 16th to the 22nd, which traditionally means large crowds and scarce accommodations.
Eat: Fuel up for a day of rambling with a delicious breakfast at Sara's Rusty Spur Bar & Grill. Then wind down after a full day at the beach with a classy supper at The Cove Restaurant at the Penninsula Golf Course. Just make sure you grab a reservation!
Bartell's picks for the road: Keep things local and family-friendly with Oberto Jerky. Cleanse your pallet with some Sparkling Ice flavored sparkling water. And wouldn't you know it, all of them can be found at your local Bartell's!